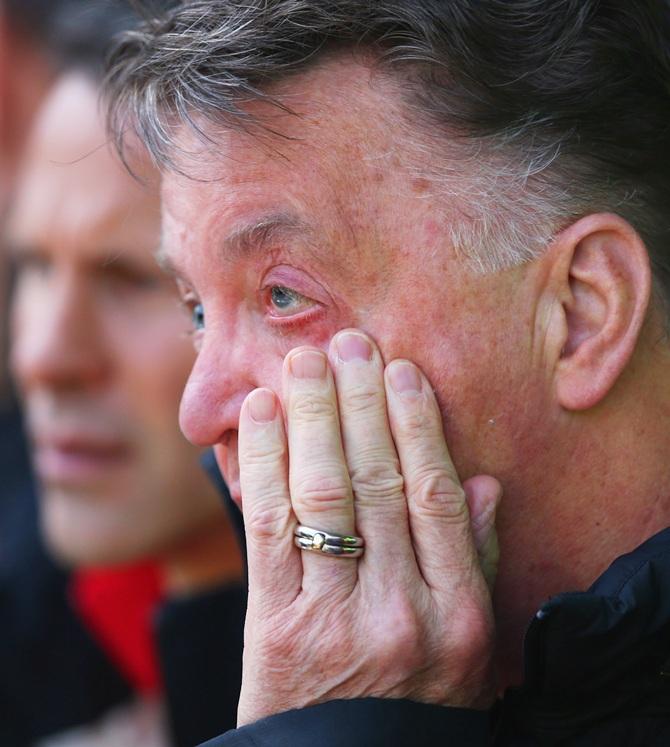 Louis van Gaal manager of Manchester United looks dejected. Photograph: Alex Livesey/Getty Images
Louis van Gaal accused his Manchester United players of being out-fought in a 3-0 defeat at Everton on Sunday that left the Premier League top-four door slightly ajar for Liverpool.
EPL PHOTOS: Clinical Everton blank jittery Man Utd
Victory at Goodison Park would have all but guaranteed a return to the Champions League for United after this season's absence from Europe but they were picked off by a clinical Everton side despite hogging possession.
A breakaway goal after five minutes by James McCarthy put Everton ahead and they doubled their lead before halftime with a glancing header from John Stones.
Kevin Mirallas fired Everton's third after the break to kill off the 20-times English champions and leave United seven points above fifth-placed Liverpool who have a game in hand against relegation-threatened Hull City on Tuesday.
"We have always had more fighting spirit on the pitch and I think that this is the first match that the other team have shown more of that than us," Dutchman Van Gaal said.
"We created five chances in the first half -- Marouane Fellaini had to score -- that is more than Everton.
"In the second half they scored on the counter and we had to play against a defensive side.
"This was the first match when I saw a team that was more motivated and aggressive than us. It is not good, but we are human beings.
"Everton deserved to win. When the result is fair, you can live with it."
Fellaini, who has enjoyed a better second season at Old Trafford following a miserable first campaign after leaving Everton, wasted a great chance to equalise early on and was booked for scything down Seamus Coleman.
While United are still well-placed to secure a top-four spot with four games to go, Van Gaal admitted that Sunday's result will fuel Liverpool's belief that they can still snatch fourth.
"Yes, I know that. You give the light to your opponents. I said that (to the players)."