A passenger plane carrying a Russian ice hockey team to a season-opening match crashed after takeoff from a provincial airport on Wednesday, killing 43 people and leaving two survivors in grave condition.
The crash of the Yak-42 aircraft, whose victims included foreign stars playing for the Kontinental Hockey League (KHL)team Lokomotiv, plunged the sports world into grief and marred a showcase political forum featuring President Dmitry Medvedev.
It is likely to increase concerns about Russian aviation safety less than three months after a crash that killed 45.
The Russian-made plane was carrying 37 passengers and eight crew to Minsk in Belarus when it crashed a few kilometres (miles) from the airport at Tunoshna outside Yaroslavl, 250 km (150 miles) north of Moscow, the Emergencies Ministry said.
"I heard a big bang and then a louder one 10 seconds later," said Andrei Gorshkov, a 16-year-old Tunoshna resident.
"Flames shot high and a column of black smoke rose into the air."
He said he had seen the plane about 300 metres over the village, its nose pointing at a downward angle, then lost sight of it as it fell.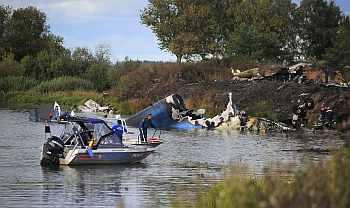 When he ran to the site, he said, "The wheel assembly was burning, half the plane was in the water, seats were floating and two people lay dead."
Two people survived and were hospitalised, ministry official Sergei Miroshnichenko said. Lokomotiv offenceman Alexander Galimov was in critical condition with burns over 90 percent of his body, a doctor at the hospital said.
The plane was carrying players, coaches and officials members of Lokomotiv, which is based in Yaroslavl, to a match in Minsk, KHL president Alexander Medvedev said in televised comments.
"There has been a terrible tragedy," Medvedev said after the league's opening match in the city of Ufa was interrupted by news of the crash, stunning spectators and sports officials. He announced a minute's silence and postponed the match.
Three Czech world champions, a legendary Slovak player and Swedish goaltender Stefan Liv were killed, officials said.
The Czech players were Jan Marek, Karel Rachunek and Josef Vasicek, all stars of the national side that won the world championship six times since 1996, the Czech embassy in Moscow said.
The Slovak foreign ministry said there was one Slovak victim, and that the only Slovak national on the passenger list was Pavol Demitra, a forward who led the national side at last year's World Championship.
"This is the darkest day in the history of our sport," International Ice Hockey Federation President Rene Fasel said in a statement posted on the federation website www.iihf.com.
"This is not only a Russian tragedy, the Lokomotiv roster included players and coaches from ten nations."
Lokomotiv's head coach is Canadian former Detroit Red Wings assistant Brad McCrimmon, according to the KHL.
At the scene, a broken piece of the plane's light-blue fuselage lay half-submerged in a river on the edge of Tunoshna, a village near the airport, which has the same name.
A green police boat plied the waters and a helicopter buzzed overhead as emergency workers waded in the shallows near a fire engine on shore. A few modest wooden houses stood just metres (yards) from the crash site.
Citing an official at the state aviation agency Rosaviatsia, Interfax reported that the plane had trouble gaining altitude and hit an antenna beyond the runway.
The crash occurred while Russia was hosting an international political forum in Yaroslavl that Medvedev, who has said he may run for a second term as president in March, was expected to address on Thursday.
Medvedev's spokeswoman, Natalya Timakova, said he expressed his condolences and would alter his plans for the forum and visit the site of the crash.
Prime Minister Vladimir Putin ordered Transport Minister Igor Levitin to the crash site on Wednesday and Medvedev sent his first deputy chief of staff, Vladislav Surkov.
The crash was the third in Russia with a toll in the dozens in less than two years. In June a Tupolev Tu-134 jet slammed into a roadside while trying to land in fog in the northern Russian city of Petrozavodsk, killing 45 people.
In April 2010, Polish President Lech Kaczynski's Russian-built plane crashed near the western city of Smolensk in a thick fog, killing him and all 95 others on board.