When young East German shot putter Birgit Boese was told to keep quiet about what went on in her sports school she thought it was because of the food.
Bananas featured regularly in the school's diet while they were a rare treat for everyone else in her country.
But there was something else on the menu -- little blue "vitamin tablets" which contained massive doses of anabolic steroids.
The pills were given to children as young as 11 in the former communist state in the hope of producing gold medallists. If the children dared to ask why they were putting on weight so fast they got penalty training to teach them to hold their tongues.
Today these former child hopefuls are struggling with crippling health problems as a result of their unwitting steroid abuse. "The younger the body, the greater the damage," Boese says.
When the East Germany government collapsed in 1989 and the borders were opened, sporting coaches were in demand and flocked abroad to well-paid jobs.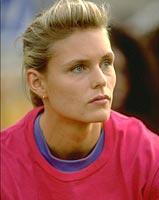 Sports clubs also eagerly absorbed eastern-trained athletes such as sprinter Katrin Krabbe, who won the 100 and 200 metres titles at the 1991 world championships in Tokyo.
It took a few years before Boese and other former athletes learned that trainers had pumped them with steroids, and the undiluted truth about the ruthless state programme emerged.
Its legacy lingers on. Last month police found medicines containing a banned hormone at the home of former Krabbe coach Thomas Springstein, named in a 1997 investigation as one of the trainers to have handed out little blue pills 10 years before.
SERIOUS ILLNESSES
Springstein also gave Krabbe and fellow runner Grit Breuer clenbuterol in 1992 in an asthma medicine not yet officially forbidden. Three years of suspension followed for Krabbe, effectively ending her career.
| | |
| --- | --- |
| | Also Read |
| | |
Prosecutors are now investigating the 46-year-old
Springstein on suspicion of violating medicine laws and possible attempted bodily harm. He has denied any wrongdoing through his lawyer Peter-Michael Diestel, East Germany's last interior minister.
Experts believe that during the 1970s and 1980s up to 10,000 sportsmen and women were doped -- the overwhelming majority without their knowledge.
Today up to 2,000 of them are seriously ill, suffering from tumours, heart defects, infertility, depression, bulimia, and circulation and spinal problems. Some have died, others are waiting to see what health problems their children have inherited.
Injury forced Boese out of athletics when she was only 15 and three years of daily steroids were enough to shatter her health, leaving her dependant on morphine to ease chronic pain.
One of the better-known cases is that of shot putter Heidi Krieger, whose body with its artificially inflated muscles was so alien to her that she changed her sex and name in 1997.
"Studies have shown that a very large circle of people was responsible," said Gieselher Spitzer, a sports historian at Potsdam University.
"More than 1,000 trainers, scientists and officials knew what they were doing -- but they were ordered to keep quiet."
SECRET TASK
State-sponsored doping began with the Cold War when every eastern bloc gold was an ideological victory.
Then, in 1974, Manfred Ewald, leader of East Germany's sports federation, began his top-secret task of centralising doping. Results came swiftly: the country of some 17 million almost doubled its gold medal count from one Olympics to the next.
Of course this aroused suspicion. At the 1976 Olympics when an American swimmer accused her East German rivals of steroid abuse because of their manly frames and deep voices, a team official told her "they came to swim, not to sing".
At home people's questions were ignored and parents had little chance of spotting unnatural physical developments in daughters who had been subject to pre-pubescent doping.
Like many female athletes Boese needed hormone treatment to conceive -- at age 24 she had the sex organs of an 11-year-old.
She believes trainers were out to further their careers -- if they were successful with children then they could progress to national level and travel.
This betrayal by the people they trusted is one of the hardest things for athletes to accept.
"Some athletes feel they have to blame themselves because they didn't notice. You feel dirty when you find out...and the more international success you had the more you feel like a criminal," Boese said.
In 2000 Ewald was convicted of causing bodily harm and given a 22-month suspended sentence. The few trainers and doctors who were charged were given moderate fines or suspended sentences. Few ever expressed regret.
"As nothing serious ever happened to the trainers and the doctors the doping programme never registered as a serious crime in people's heads," said Boese.
"I fear many trainers have never changed their mentality."