Top seed Serb Novak Djokovic brushed aside German Florian Mayer on Saturday to set up a final clash with Jo-Wilfried Tsonga in the China Open.
World number two Djokovic beat Mayer 6-1, 6-4 in the semi-final to stay on course for his third successive title in Beijing.
"He's been playing really well," Djokovic said about his opponent for Sunday's final.
"There's no secrets between each other, between us. I mean, we (have) played many times, played a lot of important matches on the big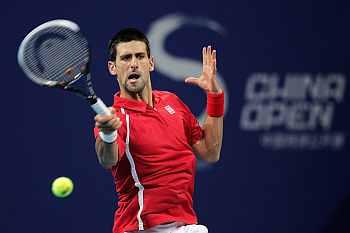 "He's a very powerful player, big serve, big forehand, and if that works, he can win against anybody on any surface, to be honest.
"So there is no clear favourite, I think, in tomorrow's match. We have both been winning quite comfortably. It's going to be a good final hopefully for the tournament."
Frenchman Tsonga kept alive his hopes of qualifying for November's season-ending World Tour finals in London when he reached the final after Feliciano Lopez retired with a wrist injury while trailing 6-1 4-1 in the first semi-final.
"I played really well," third seed Tsonga told reporters after reaching his 15th Tour final.
"I felt really good on the court. I'm just happy today with my game. I'm sure I will play good tennis in final."
Photograph: Lintao Zhang/Getty Images