Serbia's World No 1 tennis player Novak Djokovic has been named Balkan Athlete of the Year, the Bulgarian state news agency (BTA) said on Tuesday.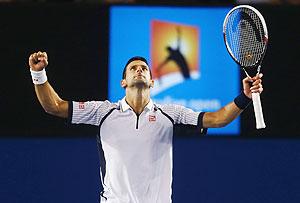 Djokovic, who won the Australian Open last year before finishing runner-up at Roland Garros and Wimbledon, became the first Serb to scoop the prize since Yugoslavia collapsed in the early 1990s.
The 25-year-old beat Turkey's Asli Cakir Alptekin, who won the women's 1,500 metres gold at the London Olympics.
Croatian Sandra Perkovic, women's discus champion at the 2012 Games, came third in the annual poll.
Photograph: Scott Barbour-Pool/Getty Images