Novak Djokovic completed a 100 percent round-robin record at the ATP World Tour Finals with a 6-2, 7-6 defeat of Czech Tomas Berdych on Friday booking his place in the semi-finals.
The Serb followed his defeats of Jo-Wilfried Tsonga and Andy Murray with another clinical performance in front of a 17,000 sell-out crowd at the O2 Arena guaranteeing top spot in Group A.
World number three Murray will join Djokovic in the semi-finals as long as the Briton avoids losing to Tsonga in straight sets in the evening match.
Berdych, who led 6-3 in the second set tiebreak, is eliminated.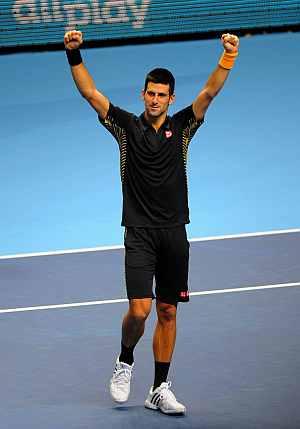 Djokovic, who will end a second successive year at the top of the rankings, dominated the opening set against an opponent he had beaten in 10 of their previous 11 meetings, breaking serve twice.
He also broke early in the second set but Berdych hit back immediately and pushed the Serb all the way thereafter.
The Czech suddenly began to force his opponent out of position with some ferocious baseline hitting.
Djokovic was made to sweat to hold serve at 5-6 and when Berdych thundered down an ace to earn three set points in the tiebreak a decider looked imminent.
The Serb then showed his mettle again, winning the next two points before benefitting from a poor Berdych error to level it at 6-6.
Djokovic completed victory on his first match point when his opponent ballooned a forehand long after one hour 37 minutes.
Roger Federer has already reached the semi-finals from Group B.
Photograph: Michael Regan/Getty Images