Dennis Keith Rodman, who faced widespread criticism after his controversial trip to North Korea recently, has reportedly said that he would not return to the oppressive state if the American people did not want him to go.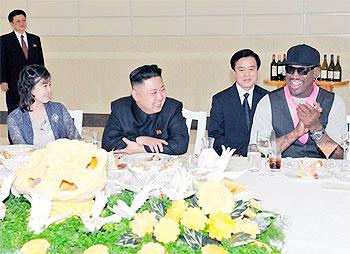 Rodman was lashed out at by critics for bringing a convoy of basketball players to visit North Korea's dictatorial leader, Kim Jong Un, for his birthday in January this year.
According to Washington Times, an emotional Rodman said that he wished they understood the whole purpose of why he went to North Korea.
Rodman further said that he did not want to be a hero and just wanted to do happy things and do great things in life and said that if he had put anyone in harm's way, he was apologetic.
The retired basketball player, who entered a New Jersey-based alcohol rehabilitation facility soon after his return from North Korea, said he did not enter the facility for alcoholism but for decompressing from all the things he was going through.
Image: Kim Jong-Un, his wife Ri Sol-Ju and former NBA basketball player Dennis Rodman talk in Pyongyang
Photograph: Reuters