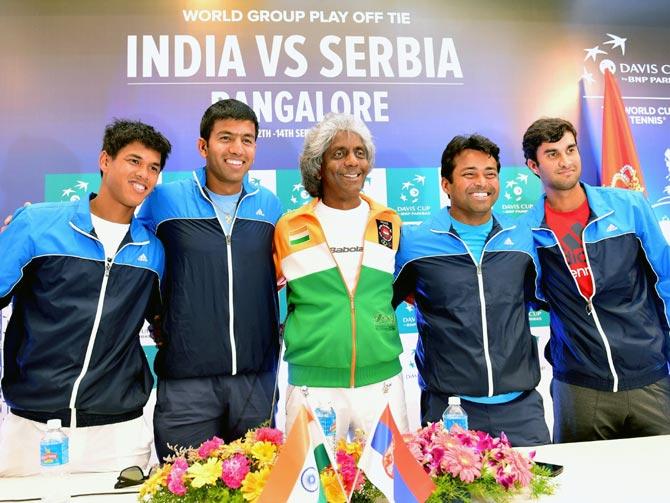 FILE IMAGE: India's Davis Cup captain Anand Amritraj, centre, with his players Leander Paes, Rohan Bopanna, Yuki Bhambri and Somdev Devvarman. Photograph: PTI
India's non-playing captain Anand Amritraj was upbeat ahead of the Asia Oceania Group I Davis Cup tie against New Zealand, to be played in Pune from February 3 to 5, but cautioned the Kiwis should not be taken lightly.

Speaking at the pre-draw press conference, Amritraj, who will be leading the side for the last time said; "Obviously I would like to leave with a win. So I am quite optimistic about it (the tie)."

"The team is playing well. We are not taking these guys (New Zealand) lightly though. I know how tough these guys are. I know how tough they were in 2015 when we last played them in Christchurch. So we know what they are when they play in Davis Cup. So we are going to play one match at a time and hope for the best," said Amritraj.

The pre-draw press conference was also attended by Yuki Bhambri, Ramkumar Ramanathan, Saketh Myneni and coach Zeeshan Ali.

Amritraj believes that the three youngsters in the team have huge potential.

"All these three boys are capable of getting into the top 100 and then you will have whole different perspective of the game," he said.

Bhambri, ranked ranked 378, said he is happy to be back in the team after being forced out against the World Group play-off tie against Spain at Delhi in September last due to an injury.

"I am making a comeback from injury. I missed being part of the team last year and I am happy to be back. It is hard to watch from sidelines sitting at home and not do a bit for my country," he said.

"I feel I am at my best now and I feel good. I have had good tough matches recently and that should help this weekend," he added.

Looking ahead to the tie, Myneni, world ranked No. 199 in the singles, echoed his sentiments saying: "It is always an honour to play for the country."

The tie, to be played at the Balewadi Sports Complex, will see Puneites witnessing a Davis Cup tie after a gap of over four decades.

The last Davis tie, between India and Russia, was held at the Deccan Gymkhana in Pune in 1974.