England captain David Beckham made his first public appearance in the famous white strip of Real Madrid on Wednesday after completing a move he described as a dream come true.
Former Real great Alfredo di Stefano handed Beckham his shirt -- adorned with the number 23 made famous in sport by American basketball legend Michael Jordan -- at a glitzy presentation ceremony beamed live across the world.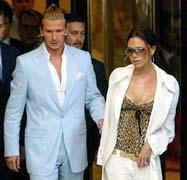 The 28-year-old Beckham, who flew into Madrid on Tuesday to seal his 35 million euro ($40.40 million) transfer from Manchester United, impressed the assembled media with a few words of Spanish.
He then showed off his more polished footballing skills with a series of tricks in front of hundreds of fans at the club's training ground.
"Gracias," Beckham began, immediately earning a round of applause.
"Senor di Stefano and Senor Perez ... I've always loved football. Of course I love my family and I have a wonderful life but football is everything for me and joining Real Madrid is a dream come true.
"Gracias and hala Madrid (Come on Madrid)."
Beckham, wearing a powder blue suit, was accompanied at the presentation by his wife Victoria.
The couple, together with son Brooklyn and Beckham's mother, flew back to England by private jet later on Wednesday.
The Beckham signing is a fourth transfer coup in three years for Real president Florentino Perez, who has already brought in Portuguese winger Luis Figo, French midfielder Zinedine Zidane and Brazilian striker Ronaldo since taking charge in 2000.
"Beckham is here because we believe in him as a footballer," Perez said. "David, welcome to the dream league."
Beckham's routine before the fans was interrupted when a young boy wriggled under a fence and managed to join him on the pitch, receiving a bear hug from his new hero before being presented with a Real shirt of his own.
Real have won the European Cup a record nine times and took their total of Spanish league championships to 29
last season.
The Spanish club is banking on Beckham, who enjoys popstar-like adulation from millions of fans around the world, to give them further marketing muscle, particularly in northern Europe and Asia.
Beckham and his wife were whisked around Madrid in a motorcade during their lightning visit to the Spanish capital, after flying into a military airbase aboard a private plane.
Spanish interest in Beckham has gained pace since the club announced his move to Madrid from Manchester United last month but there have not been the sort of crowds seen during his recent tour of Asia.
Media interest was intense throughout his stay in Madrid, however, and the player is now looking forward to sharing the spotlight at Real Madrid.
"I haven't come here to be a great star," Beckham told Real Madrid TV. "I'm here to be part of a team full of great players, who are stars but above all are excellent players."
Beckham will report back in Madrid for the club's pre-season tour of Asia, starting on July 24.
His official debut for Real will be in the opening leg of the Spanish Super Cup away to Real Mallorca on a date still to be decided in late August.
The return leg a few days later should see him play his first match for Real Madrid at the Santiago Bernabeu stadium.
"I don't know what it will feel like until I run out but it will be an amazing experience," he said in an interview with Reuters.
"Whenever I've run out on any pitch it's been with England or Manchester United so running out for Real Madrid with this sort of players, this team, in front of 90,000 fans will be amazing."
He has already received warm words of welcome from several players, including Ronaldo.
"The arrival of Beckham will be good for competition," Ronaldo told Real Madrid's website. "It will be healthy.
"In Madrid there's room for everyone."