The Czech Republic beat holders Spain 3-2 to win the Davis Cup for the first time as an independent nation when Radek Stepanek overcame Nicolas Almagro in four tough sets before a raucous home crowd on Sunday.
Stepanek, who jumped over the net and triumphantly waved his arms to acknowledge the 14,580 fans packed into the arena, was hugged by team mates before going to his wife with tears rolling down his cheeks after clinching victory in the final rubber.
His 6-4, 7-6, 3-6, 6-3 win over Almagro meant the Czechs reclaimed the Davis Cup 32 years after Czechoslovakia won the trophy led by Ivan Lendl, who proudly watched this year's final at the 02 arena with his former team mates.
It also made the Czech Republic the first country to win the Davis Cup and Fed Cup team trophies for men and women respectively and the mixed Hopman Cup event in one year.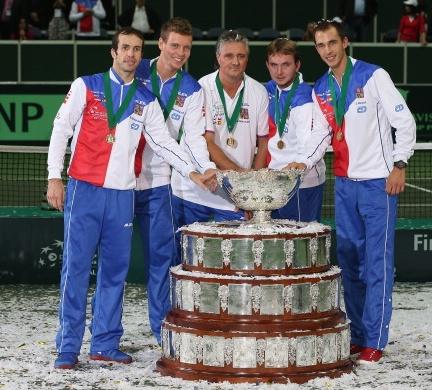 "I was dreaming about it my whole life and now we're standing here as Davis Cup champions, it's amazing," said Stepanek after clinching the 100th Davis Cup final.

His success delighted a home crowd that had earlier been silenced when Spain's world number five David Ferrer cruised to a 6-2, 6-3, 7-5 win over Tomas Berdych to level the final at 2-2 after the Czechs won a four-set doubles rubber on Saturday.

Ferrer's victory over sixth-ranked Berdych put Spain, who have dominated the event in recent seasons but were without injured former world number one Rafa Nadal, back in the hunt for a fourth Davis Cup crown in five years and sixth overall.

SIZZLING STEPANEK

The two Czech players have carried the team since 2007 but lost the only other time the country has appeared in the final - a 5-0 drubbing by Spain in 2009 on the clay courts of Barcelona.

The pair played in all the weekend's matches but fatigue was not a factor for the effervescent 33-year-old Stepanek, ranked 37th in the world, who used all his experience to unnerve the 11th-ranked Almagro in the Spaniard's first final appearance.

Stepanek, who became the first man aged 30 or above to win a decisive fifth rubber in 100

years and has plans to play Davis Cup again next year, broke Almagro to claim the first set.

After missing a few chances to break his opponent at the end of the second set, Stepanek managed to force Almagro into several errors in the tiebreak which he won 7-0.

The beginning of the third set was tight but Almagro served well and managed to win it before Stepanek clinched the fourth to send the Czech fans into raptures as Queen's "We are the Champions" blared through the loudspeakers.

"I can't describe what I'm feeling right now," said an emotional Stepanek.

"I came on the court with the mindset that I had to stay calm, hungry, motivated and concentrate... I was playing very aggressively today. I wanted to be the one who was active, who was controlling the game and it paid off."

TOUGH MOMENTS

The Czechs became the first country in 22 years to win the Davis Cup and Fed Cup in the same year but were pushed all the way by a Spanish team missing the talismanic Nadal.

"These are very tough moments," Almagro told Spanish broadcaster TVE after the defeat. "But we can't be down on ourselves in any way as we fought to the last moment.

"We are runners-up in the Davis Cup, not what we wanted as we came here to win the title but we are leaving with our heads held high knowing that we did a good job."

The end of the season was bittersweet for Ferrer, who won a career best seven titles this year and claimed both of Spain's points against the Czechs.

"I'm very happy with my game in this Davis Cup. I'm proud of the team. We fought to win here in Prague. But the Czechs were better," Ferrer said.

Image: (L-R) Radek Stepanek,Tomas Berdych, team captain Jaroslav Navratil,Ivo Minar and Lukas Rosol of Czech Republic hold the winners trophy aloft after a 3-2 victory against Spain.

Photograph: Clive Brunskill/Getty Images