Australian freestyle swimmer Ashley Callus and England's synchronised swimming medal hope Jenna Randall are excited at the prospect of participating in the Delhi Commonwealth Games.
"There's excitement because I'm heading to my fourth Commonwealth Games, but there's also anxiousness to see what it's actually like over there," the Courier Mail quoted Callus as saying.
"They keep us updated on the security issues and how the Games Village is coming along. With this information everyone can make informed decisions."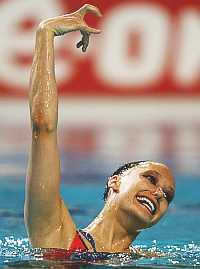 "For me, personally, (events in Delhi) have not impacted my motivation to go and compete. I'm 110 per cent ready to rock 'n' roll," said the 31-year-old who won gold in the 4x100m freestyle relay at the 2000 Sydney Olympics and silver in Melbourne four years ago.
Randall insisted reports from Delhi had no bearing on her preparation for the sporting event. The 21-year-old will on Monday leave for her training base in Doha before heading to Delhi.
Randall, who will compete alongside long-time duet partner Olivia Allison, is determined to improve on her silver-winning showing in the Melbourne Commonwealth Games.
"I'm just concentrating on training and trying to get the best out of the time before the Games," she told Eurosport.
"We are just focusing on training and putting in our best performance at the Games. Everything else is out of our hands."
"The Commonwealth Games are a stepping stone to Olympic glory, but every competition is important, as it gives us an opportunity to enhance Great Britain's reputation."