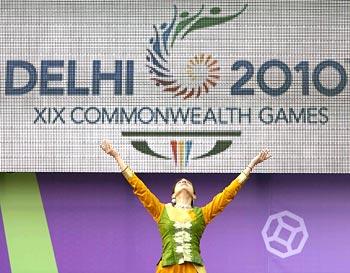 Denying any role in the alleged money trail during the Queen's Baton Relay (QBR) launch in London last year, Commonwealth Games Organising Committee (OC) Director General VK Verma on Thursday held sacked officials T S Darbari and Sanjay Mohindroo responsible for all the deals at that time.
"Darbari and Mohindroo are the two officers who were entirely responsible for the entire project (deal with AM Films) as they were of the level of joint DGs. They went under verification details and primary responsibility was theirs. I was not in London and not involved," Verma, DG (Finance, OC) told reporters.
Verma also defended under-fire OC chairman Suresh Kalmadi, saying it the Games are not a one-man show.
"Mr Kalmadi is the chairman but he is not single-handedly running it. All the major contracts whether its Max, Maxxam, SMAM or whatever, they have all gone through the Executive Board and not by Kalmadi.
"The three names which have come in the investigation report namely Darbari and Mohindroo with regard to the whole project and Mr Jaychandaran with regard to having left London before completing his full responsibility. These all should be asked," Verma said.
When asked if he is giving a clean chit to Kalmadi on AM Films deal, Verma said, "Darbari and Mohindroo were a two-member team that was entrusted with the total responsibility of the QBR. The budget was approved by the executive board, process was approved by Overseas finance committee and now if somebody has given a wrong certificate, then it is extremely sad.
"The person who has given the fake certificates has got to be taken to the task. He should be asked why he did so."
Clarifying his role in the deal with AM Films, the firm which has received lakhs of pounds for extending its "services" for the QBR in London leg.
"When the case came to us, we clearly stated that the proposal of hiring those things are concurred. All the things concerned have to be negotiated by a committee of three who will be London. I was not in London, so I can't say what process they followed.
"Our direction from here was a three-member committee, headed by Jaychandaran will negotiate with the vendors, check and verify the credentials of the vendors and take on the spot decisions. Therefore after this, what they have negotiated and how the bills have been sent, I have no comments. Those bills have not come through me at all. So I have no role to play."
Asked about the personal fax sent to Kalmadi by Mohindroo that said 127,000 pounds must be released to AM Films, Verma said, the note would not have come to him but instead had gone to the cheque signings authority.