Indian football sensation Sunil Chhetri has signed with newly-unveiled Bengaluru Football Club (BFC). And the main reason for his decision is the club's English manager Ashley Westwood.
The star striker is banking on Westwood's leadership qualities to make an impact this I-league season.
"Bengaluru Football Club is not a fancied team but we could make an impact if we put to good use the tips given by Ashley (Westwood).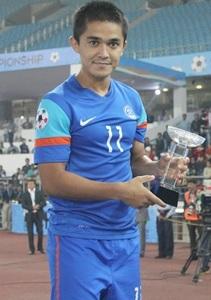 "Anything is possible. We are ready to put up a fight," Chhetri said.
"Ashley was a player himself and has a huge sense of football and wants to work really hard," he added.
The Delhi lad cited the striking similarities between BFC and European clubs, where diet and fitness are given importance, for his move.
"Have you heard of heart-rate monitors in India? This is all normal European stuff," he explained.
India's football captain said he never heard anything of players paying fines for coming late for training.
"Every player reports an hour-and-a-half early and has breakfast together," he said.
The 28-year-old said pressure has never taken over his performance as he revels in such circumstances.
"I shut myself off because no matter if I am under pressure I am just going to perform the way I would," he said.
Image: Sunil Chhetri
Photograph: AIFF Media