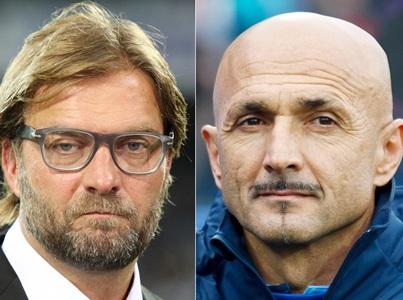 Borussia Dortmund fans will be offered tea and pies at Zenit St Petersburg on Tuesday but there will be no such generosity on the pitch with the Russians intent on reaching their first Champions League quarter-final.
Zenit would appear to be rank outsiders against last season's runners-up after scraping through the group stage with a measly six points, the lowest-ever total with which a team has reached the round of 16.
They mustered only one win in six group games and finished their campaign by losing 4-1 at Austria Vienna.
They will also be rusty after a two-month winter break and will have to close part of the Petrovsky stadium as a punishment for racist behaviour by their fans in the Austria Vienna match.
Even in an unusually mild Russian winter, it all adds up to a pretty grim outlook, yet Zenit coach Luciano Spalletti is anything but discouraged, claiming that the group stage results did not reflect their performances.
"The team live for this competition and their careers are driven by it," the Italian, whose team will be playing their first competitive match since early December, told UEFA.com.
"We have played in the Champions League for many years now, and we've fought well this season. We have many important qualities which means we can play at this level," he added.
"We drew the home match against Porto when we should have won, and it was the same against Austria Vienna, where we played with 10 men for more than an hour.
"We deserved to collect more points, but overall we can be happy with our performance."
Dortmund amassed 12 points in a much tougher group, featuring Napoli, Arsenal and Olympique Marseille although their domestic form has been inconsistent.
After winning the Bundesliga titles in 2011 and 2012 and finishing second last season, they have had some ups and downs this season and are currently third.
On Saturday, they suffered their heaviest away defeat for four seasons when they went down 3-0 at Hamburg SV but coach Juergen Klopp was confident they would rally.
"We have often shown the right reaction in the Champions League in the past after losing league games," he said.
"It's a completely different competition," added midfielder Nuri Sahin. "We will be well prepared in St Petersburg and we want to get a good result to bring back to Dortmund."
Zenit have been ordered to close the four sections of the Petrovsky stadium used by their ultras and organise extra security measures following the incidents in Vienna, where their fans displayed racist banners and let off fireworks.
The club's general manager Maxim Mitrofanov said that season ticket holders for the ultras sections would not be allowed in other parts of the stadium, even if they bought tickets.
He also warned of delays entering the ground as club employees checked that none of the banned fans was trying to get in.
"We understand that it's hard to be outside at the stadium for a long time," he told Zenit's website.
"Petrovsky does not have the most comfortable infrastructure, unfortunately, especially in winter time. So we're going to give Borussia fans hot tea, and treat them to pirozhki (Russian pies).
"We'll show them true Russian hospitality, to soften the influence of any cold weather on the match atmosphere."
Image: Jurgen Klopp, Head Coach of Borussia Dortmund, left, and Zenit St Petersburg head coach Luciano Spalletti
Photograph: Mike Kireev/Epsilon/Getty Images