Borussia Dortmund midfielder Mario Goetze will miss Saturday's Champions League final against Bayern Munich due to a thigh muscle injury, the Bundesliga club said on Wednesday.
The versatile 20-year-old German international, who will join Bayern next season, was injured in the second leg of the semi-final against Real Madrid on April 30 and had been battling to get fit for the final at Wembley.
"That final was my goal, I've struggled hard to be fit in recent weeks and I am incredibly sorry for not being able to help the team in this important game," Goetze said on the Dortmund website (www.bvb.de).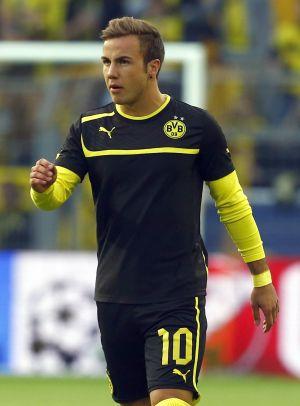 "I will of course travel to London to support the guys."
Goetze stunned his colleagues when he announced at the beginning of the month, after both Borussia and Bayern had qualified for the Champions League final, that he was joining Bayern next season.
That raised the unusual prospect of him playing against his new club in the final, but the injury has ended that prospect.
Dortmund coach Juergen Klopp said last week he expected Goetze to recover in time but the player trained with his team mates on Tuesday and complained of pain.
Photograph: Ina Fassbender/Reuters