Manchester City's memorable Champions League win over holders Bayern Munich still failed to add up for manager Manuel Pellegrini after he revealed his poor grasp of simple mathematics.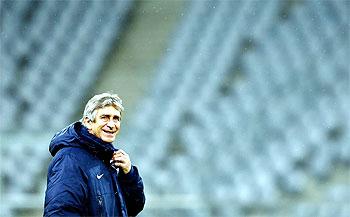 City ended up second in Group D to Bayern, whose run of 10 consecutive Champions League wins ended at the Allianz Arena on Tuesday, after the comeback 3-2 win between the two already qualified sides.
The Premier League side -- fighting back from 2-0 down -- could have been top of the group, avoiding the big guns in the draw for the knockout stage, had they scored one goal more, however.
Pellegrini seemed unaware of that fact after the match when he explained to reporters that he had not brought on striker Sergio Aguero in the second half because he thought they needed two more goals
"I said it was very difficult to win by three goals," said the Chilean, who made clear that resting players for Saturday's Premier League clash with leaders Arsenal was more of a priority.
"Maybe if we would have scored a fourth goal I would have made the change."
Instead, City brought off striker Edin Dzeko and replaced him with midfielder Jack Rodwell.
A 4-2 scoreline would have been enough for City to top the group on away goals with the leaders decided on head-to-head results rather than goal difference. Bayern had beaten City 3-1 in Manchester.
"Pellegrini fails his maths test," declared a back page headline in the Times, while others rued a costly blunder on what was otherwise a night of triumph.
James Milner, who scored City's winner in Munich, said the players knew "roughly" what was required.
"We didn't know if 4-2 would be enough or if we would need 5-2," he said.
"We thought it needed to be 5-2 to be honest. It's not easy to score three goals here, so to score four would have been a tough task".
Pellegrini can at least take some crumbs of comfort from the knowledge that he is not the first City manager to get his sums wrong.
Alan Ball's relegation-threatened City, on the final day of the 1995-96 season, drew 2-2 with Liverpool at home with the manager believing that was enough to keep them up after being wrongly told Southampton were losing.
Photograph: Michael Dalder/Reuters