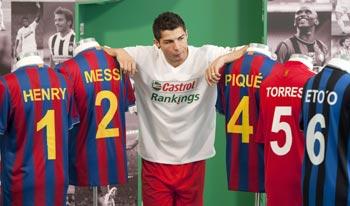 Thierry Henry was listed the world's best football player in the inaugural Castrol Rankings, unveiled by Cristiano Ronaldo in Madrid on Thursday.
The rankings are based on the actual performance of every football player across Europe's top five leagues.
The France and Barcelona ace, a World Cup, Champions League and EPL champion, was rated the most effective player of the past 12 months and is placed ahead of Barcelona team-mate Lionel Messi and Real Madrid's Ronaldo.
The rankings, using "objective analysis and highly advanced technology to measure every pass, every tackle and every single move of over 2000 players and games every year" will be updated on a rolling monthly basis.
Speaking at the launch of the rankings, Ronaldo vowed that he will close the gap on Messi and Henry.
"The Castrol rankings is the ranking that every player wants to top.  If you can be number one on the Castrol rankings there can be no arguments, as it is based on fact, not opinion.  That's why I'm aiming for the number one spot - to prove I'm the best," he said.
Henry scored five goals and provided three assists in Barcelona's successful Champions League campaign last season. He scored 18 goals and provided eight assists in the Primera Liga during the 12-month period.
The Barclays Premier League has only five players in the Castrol rankings Top 20, with Liverpool striker Fernando Torres the highest rated player in fifth place.
However, the Premier League has more players (33) in the top 100 than any of the five major leagues. Spain's Primera Liga contributes 28 players, Italy's Serie A and Germany's Bundesliga both contribute 15, while nine players are from France's Ligue 1.    
The top ten in the rankings:
1. Thierry Henry - Barcelona (978 points)
2. Lionel Messi - Barcelona (964 points)
3. Cristiano Ronaldo - Real Madrid (914 points)
4. Gerard Pique - Barcelona (909 points)
5. Fernando Torres - Liverpool (903 points)
6. Samuel Eto'o - Internazionale (886 points)
7. Rafael Marquez - Barcelona (884 points)
8. Luca Toni - Bayern Munich (877 points)
9. Carles Puyol - Barcelona (876 points)
10. Claudio Pizarro - Werden Bremen (866 points)
Image: Cristiano Ronaldo with jerseys bearing the names of the top six players in the Castrol rankings