Former champion Paul Lawrie was back home walking his dog assuming he had missed the British Open before dashing back to Muirfield to card an impressive one-under-par 70 on Saturday.
The 44-year-old, eight over after his second round, jumped in the car to drive two hours home to Aberdeenshire where he imagined he would watch the rest of the championship from the comfort of his sofa.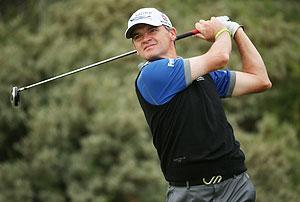 "I went home, obviously I didn't think seven-over had any chance, let alone eight, so we packed up and went home, got to walk the dog and have a bite to eat," the 44-year-old, who beat Justin Leonard and Jean Van de Velde in a playoff at Carnoustie in 1999, said on Saturday.
"I had been watching it on the iPad and was actually out walking the dog when the texts started to come through. So we packed a bag and got back here at 11.15 last night.
"I've never had to do that before so thankfully it's just up the road.
"When I came off the course six over was 79th or 80th. It just shows you how tough this course is."
But for a terrible 10-over-par first-round 81, Lawrie, who shot 69 on Friday, would not just be back making up the numbers and trying to earn a larger share of the prize money.
His round of 70 on Saturday included five birdies and left him at seven-over for the tournament, 10 shots behind second-round leader Miguel Angel Jimenez.
"I was terrible on Thursday, I hit so many poor shots and when the golf course is set up as tough as this you are not going to do anything else," he said.
"But Friday I played beautiful and today I played beautiful again although I struggled a bit with the putter and it should have been quite a few less."
Photograph: Andrew Redington/Getty Images