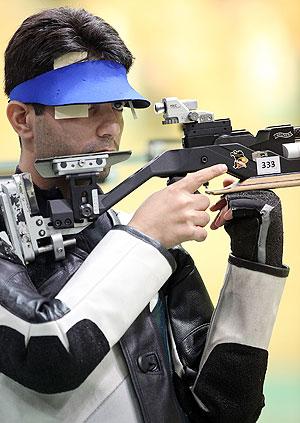 Ace shooter Abhinav Bindra shot 208.9 to win the gold medal in the 10 meter air rifle event while Vijay Kumar had to be content with silver in the centre fire event on the concluding day of the 57th National Shooting championship, in New Delhi, on Tuesday.

Beijing Olympics gold medallist Bindra beat Army's Ashok Chavanke, who shot 204.3 to take silver while another Olympian Sanjeev Rajput of Navy shot 182.8 to claim bronze.

Bindra was third in the qualification but he fought back to win the title in the finals. Gagan Narang could not make it to finals of 10m Air Rifle.

In the center fire Pistol event, the gold was won by Army's Pemba Tamang, who shot 583, four more than his team mate and London Olympics silver medallist Vijay.

There was a tie for bronze medal between Commonwealth games medallists Harpreet Singh and Omkar Singh, with both the Navy shooters on a equal score of 578.

Harpreet then claimed bronze with 50/50 against Omkar's score of 46/50 in the tie-shot.

Ravi Kumar of Air Force bagged the 'Champion of the Champions' title in the Air Rifle event by defeating Olympian Sanjeev Rajput of Navy.

Punjab shooter Ekambir singh Mandi scored 616.8 for a gold in 10m Rifle men's Junior event while Akhil Sheoran of UP had to satisfied with silver medal on equal score. The bronze medal went to Punjab's shooter Harmanvir S. Mansahia with 614.3 points.

Pratik C Borse of Maharashtra bagged gold with 612.6 in the Youth category of 10m Air Rifle, Silver medal also went to his team-mate Vinaykumar S Patil on 610.4 points, while Haryana's Prashant claimed bronze with 608.8 score.

Samarjit Singh of Uttarakhand won the gold in the junior category of Centre Fire pistol with 563, Army's Neeraj Kumar and Pradeep claimed silver and bronze with 561 and 560 points.
Image: Abhinav Bindra