Seven-time World champion Pankaj Advani, veteran Geet Sethi and Dhruv Sitwala continued their unbeaten run in the Time Format after outplaying their rivals in the World Billiards Championships in Leeds on Sunday.
Advani whipped John Hartley of England 630-294, Sethi routed another Englishman Nalin Patel 522-268 and Sitwala virtually toyed with Australia's Neil Bolton in a 572-156 win.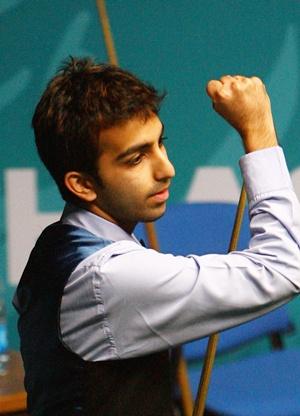 Another star Indian cueist in the fray, Sourav Kothari from Kolkata also began his campaign impressively by securing comfortable victories over Wayne Doyle, Phil Davis and Robin Wilson in Group I.
Manish Jain also returned to winning ways after losing his second game against Australia's Matthew Bolton on Saturday, thrashing countrymate Revanna Umadevi 379-184 in Group K.
In Group B, Balachandra Bhaskar defeated Rick Kendall of Canada 581-142 and then went on to win against England's Matthew Sutton 408-260.
Alok Kumar too brought his campaign back on track after prevailing over David Causier of England 593-477 in a hard-fought battle in Group D.
Devendra Joshi, Rupesh Shah and Siddharth Parikh also won their respective matches in the Time Format.
The newly-formed World Billiards Limited has brought together the International Billiards and Snooker Federation (IBSF) and World Professional Billiards and Snooker Association (WPBSA) events for a first-ever unified World Championship.
Till last year, there were two different bodies –- IBSF and WPBSA -- which were organising three different world championships.
For the first time, 18 Indian cueists are taking part in the World championship which has attracted 65 players from 15 nations.
Photograph: Ryan Pierse/Getty Images for DAGOC