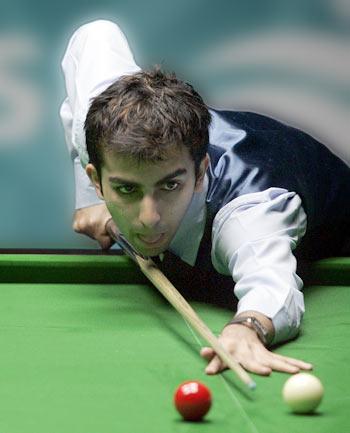 The Indian billiards fraternity on Monday showered rich praise on Pankaj Advani after he defeated defending champion and nine-time winner Mike Russell of Qatar in the final and claimed the World Professionals Billiards Championship.
The 24-year-old Indian cueist beat Russel 2030-1253 to reign at the Northern Snooker Centre in England and become only the second Indian to achieve the feat after five-time World champion Geet Sethi.
"Look, he has achieved today what I predicted earlier. This is his biggest achievement. He had beaten the top three players, including compatriot Geet Sethi and Mike Russell, in his last three games. He was due for it," Ashok Shandilya, the 1998 Bangkok Asian Games gold medallist, said.
"Lot of players are there in his age group, but no one is as promising as Advani. I can say that no one is there in the future who can beat him. For next few years it's difficult to have another player like Advani," Shandilya added.
Former two-time Asian champion Yasin Merchant also doffed his hat at the Bangalore-cueist and hoped the recent victory will inspire Advani to greater heights.
"I think he is the most deserving candidate to have won this title. I am proud of him, as he is a very dedicated and promising player. He has beaten a legendary player like Mike Russell, which is not a small thing at all," Merchant said.
"He is only 24. With 10-15 years of play still left in him, he is surely going to lift many more titles. It will be difficult to trail him, as no youngster is as promising as Advani," Merchant added.
Former World billiards champion and currently India coach Subhash Agarwal, who is in England with the team, was also elated.
"He is the best. He is going to conquer the world of billiards. Many players are playing amateur, but Pankaj is most promising of the lot," Agarwal said over phone.
Advani, who won World amateur snooker championship in China six years ago and World amateur billiards championship in Malta four years back, is the second after Malta's Paul Mifsud to bag both the amateur billiards and world snooker titles.
"It's a fantastic achievement to beat Mike Rusell. It's phenomenal. I think he is ready for world professional snooker. With this changed attitude and mindset he can go very far if he stays focused," said another former ace, Michael Ferreira.
President Pratibha Patil, in a congratulatory message, said, "The achievement is an occasion for great happiness not only because Pankaj Advani has become the World champion but also because he is only the second Indian to win this title."