Karol Beck of Slovakia has been banned for two years for doping, the International Tennis Federation (ITF) said on Monday.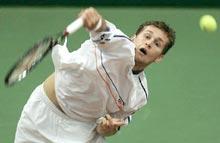 World number 85 Beck tested positive for the anabolic agent clenbuterol last September during Slovakia's Davis Cup World Group semi-final against Argentina.
The 23-year-old's results in the tie are automatically disqualified although the ITF said in a statement the overall result of the semi-final
would not be reassessed.
Slovakia beat Argentina 4-1 before losing to Croatia in the final. In the semi-final Beck played the opening singles and also in the doubles, both of which Slovakia won.
He did not play in the final.
Beck, who has not played in 2006, will forfeit ranking points and prize money from all competitions since the positive test. His ban started from November 1.