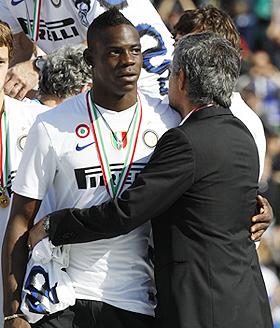 Striker Mario Balotelli does not have a price and right back Maicon is also not on the market, Inter Milan sporting director Marco Branca said on Wednesday.
Media reports say the 19-year-old Balotelli, who repeatedly clashed with former boss Jose Mourinho during Inter's run to the treble last season, is being tracked by Manchester United and Manchester City while Mourinho wants Brazil's Maicon to follow him to Real Madrid.
"We are in a very privileged position having won so much and it's true that every day we are receiving calls because everyone wants at least six or seven of our champions," Branca told reporters at the unveiling on Inter's new kit.
"Maicon and Balotelli? Our two players have never been on the market, when and if there are requests we will kindly examine them but they are not on the market. Balotelli does not have a price."