Midfielder Michael Ballack says Germany do not need to play a "beautiful game" to succeed and should focus instead on developing a winning mentality.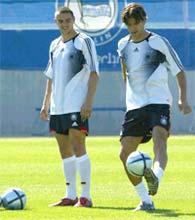 "Our strengths and weaknesses will stay with us -- even 10 years from now," Ballack said on Sunday in an interview with the Frankfurter Allgemeine Sonntagszeitung.
"We can improve but our style will stay the same. We shouldn't try to change it either."
Germany, who have not beaten a major soccer power in their last nine matches, host Brazil for a friendly on Wednesday in Berlin's newly renovated Olympic Stadium, venue for the 2006 World Cup final.
"One doesn't have to play beautiful football," said Ballack, Germany's new captain. "Success is what counts."
Ballack conceded Germany did not play attract football in the 2002 World Cup, where they reached the final before losing 2-0
to Brazil.
"It was precisely our mentality that was the key for success there," said the Bayern Munich midfielder.
Germany beat England 1-0 in October 7, 2000, the last time they beat a top-level side. After that, they lost 1-0 to France, 5-1 to England and 1-0 to Argentina in the run-up to the 2002 World Cup.
At the World Cup, Germany beat Paraguay, the United States and South Korea before losing in the final. Since then, they have gone down 3-1 to the Netherlands, 3-1 to Spain, 1-0 to Italy and 3-0 to France.
They then drew 1-1 against the Netherlands at Euro 2004.
Ballack said Germany had become wary of taking risks on the field because the players feared being criticised in the media.
"Some don't play with intuition or take risks on the pitch," he said. "They're protecting themselves so they don't make mistakes because they're afraid.
"Otherwise they could end up being the idiot of the nation for five days in some newspapers."