A fatigued Novak Djokovic stared down a ferocious challenge from Rafa Nadal to defend his Australian Open title early on Monday in the longest grand slam final ever played.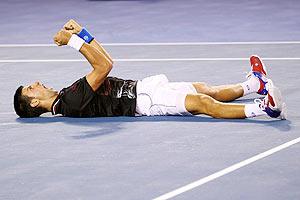 The Serbian world number one, who defeated Nadal for the Wimbledon and U.S. Open crowns last year, captured the decisive break at 5-5 in the fifth and in a frenzied atmosphere at Rod Laver Arena rode out a 5-7, 6-4, 6-2, 6-7, 7-5 winner.
Crossing himself and muttering prayers at the heavens, Djokovic slammed a cross-court forehand winner on the first match point and collapsed to the ground in ecstasy after the five-hour 53 minute tussle.
The win gave top seed and 2008 champion Djokovic his fifth grand slam title before his 25th birthday, while continuing his psychological chokehold over second seed Nadal, who he has now beaten in seven straight finals.
The length of the match smashed the previous record of four hours and 54 minutes set when Mats Wilander defeated Ivan Lendl for the 1988 US Open title.