Two surprise Grand Slam final appearances have given Vera Zvonareva the world number two ranking and the confidence to go one better at the Australian Open, but remarkably, the Russian remains saddled with the "dark horse" tag.
World number one Caroline Wozniacki and third seed Kim Clijsters have generated all the buzz in the lead-up to Melbourne Park, but the Russian remains conspicuously absent from talk of contenders.
The chatter might grow a little louder after Zvonareva opened her Australian Open campaign with a 6-2, 6-1 trouncing of Austria's Sybille Bammer to canter into the second round.
The US Open and Wimbledon finalist exited both Grand Slams weeping, but left with a resolve she said had convinced her she could beat any player on her day.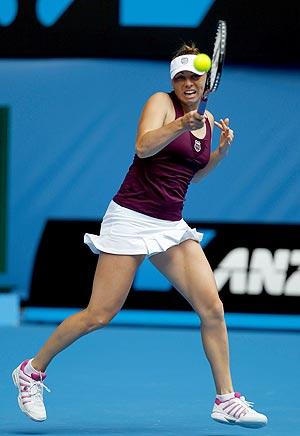 "It (was) a very good experience. That's something that made me stronger, better player, more mature," she said.
"Even if I'm not playing my perfect tennis, I can still beat anyone on the other side of the net.
"That's the most important thing. That's what you try to do in a grand slam."
Zvonareva has been struggled to shake off a perception that she is mentally fragile and tends to wear her heart on her sleeve on the court.
Off the court, the international economic relations student appears a model of tranquility, however, and does not worry about critics.
"I'm always confident in myself. I always believed in myself. There are a lot of people that didn't, but never bothered me," she said.
"It was just a matter of bringing the best tennis out of myself at those moments when I need it.
"I know it's not going to be perfect every day and I will have some losses, but that's part of the game."
Zvonareva is in her ninth straight appearance at the Australian Open, where she reached her first semi-final in 2009, losing to fellow Russian Dinara Safina.
The confidence player will hope to channel the memories of her 2009 run as she seeks to carve out a place among the headline acts at Melbourne Park.
"I'm enjoying the atmosphere," she added. "I'm just enjoying playing here. You know, hopefully this kind of atmosphere can help me to feel great on the court and help me to bring the best tennis out of myself.
"If I do, I believe I can beat anyone on the other side of the net."