New long jump world champion Dwight Phillips wants to join two of the greatest athletes in history at next year's Athens Olympics.
Phillips plans to emulate fellow-Americans Jesse Owens and Carl Lewis by winning the Olympic 100 metres and long jump gold medals.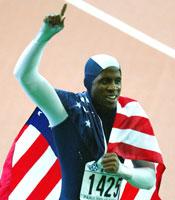 Owens won the 100m and the long jump at the 1936 Berlin Games, two of his four gold medals. Lewis won both events in 1984 and again in 1988.
"I'd like to do the 100 and the long jump. That's one of my goals. I haven't really told anybody about it," Phillips told reporters on Friday.
"I haven't really sprinted a lot, but next year I'm going to sprint a lot more as I feel I can compete with the big guys in the 100," said Phillips, who has a personal best of 10.11 (wind assisted).
Wearing a blue-and-white hooded body suit that earned him the nickname Spiderman from the Stade de France crowd, Phillips jumped 8.32 metres to bring the world long jump title back to the United States for the first time in 10 years.
Jamaican James Beckford finished second on a cool, wet evening in Paris with a best effort of 8.28m, to add to the silver he won in 1995.
Spain's Yago Lamela, favourite for the title in the absence of Cuba's Ivan Pedrosa and American Savante Stringfellow, was third with 8.22m.
Pedroso, winner at the previous four championships, pulled out injured during qualifying and Stringfellow, runner-up in Edmonton, failed to make the final.
World record holder Mike Powell was the last American to win the world long jump title in Stuttgart in 1993.
"Pedroso has owned this event for years and I wanted to be the guy who brought it back to the US," said Phillips.
The 25-year-old, who won the world indoors title in March, hoped that his success would take him out of the shadow of Stringfellow, who was the world's top jumper last year.
"It's been pretty hard to get recognition. We have Savante Stringfellow and everybody's tried to make him such a great star. Obviously he's a great athlete, but I feel I'm just as good," Phillips said.
He added that he had competed with a torn abdominal muscle, an injury he had carried since May. "It's quite painful when I'm out there, so I'm sure it'll be hurting tomorrow."
The competition sprang to life in the fifth round when the lead changed hands three times.
Lamela, the world silver medallist in 1999, took over from Phillips on the countback when he reached 8.22m. Beckford then jumped 8.28, his best this season, to move from third to first, only for Phillips, who was jumping last, to re-take the lead by four centimetres.
Phillips has the chance to add to his gold after being drafted into the US 4x100 relay squad along with high hurdler Terrence Trammell.
"I haven't heard anything from any of the coaches. As of right now I don't think I'm running, but if they need me I think I can give them a strong leg," he said.