Three-time world champion Maurice Greene remains on course for an unprecedented fourth successive 100 metres title with two efficient, if unspectacular, performances in the opening rounds.
But the competition descended into farce when former American champion Jon Drummond and Jamaican Asafa Powell were disqualified for a false start amid chaotic scenes at the Stade de France.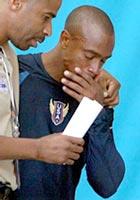 The quarterfinal heats were held up for more than 45 minutes as Drummond at first berated officials, then lay down in the middle of the track and refused to move.
Greene, drawn in the last heat of the day with European champion Dwain Chambers and Commonwealth champion Kim Collins, was forced to wait on the sidelines as a tearful and agitated Drummond continued his protest.
The inconsolable 34-year-old, bare-chested and sobbing, was eventually ushered away from the track by coach John Smith. (Click here for the IAAF's version.)
The confusion increased when the remaining five athletes were led away, before returning to compete after the other heats.
Greene kept his calm to ease into Monday's semi-finals, but failed to get a morale-boosting win in either round.
The 29-year-old, the dominant sprinter of his era but struggling for consistency this year after suffering tendinitis in his right leg, made a slow start in his opening heat, clocking 10.18 to finish second to Ghana's Eric Nkansah.
He then improved with a time of 10.04 in a quick quarterfinal heat won in 10.02 by Collins. In a tight finish, Chambers took second in 10.03 with Greene handed the same time as Nigeria's Deji Aliu.
In contrast, world record holder Tim Montgomery brushed aside worries over his recent poor form and made a statement of intent with impressive wins in both his heats.
Montgomery followed up his opening 10.07 to equal his season's best of 10.04 as he went through to Monday's semis with a smooth quarterfinal win.
"I feel great right now," said Montgomery after finishing ahead of US champion and 2001 world bronze medallist Bernard Williams. "I'm out there to have fun and that's the only thing that matters."
Montgomery has blamed his under-achievement this year on a peanut allergy that affected his immune system.
Asked after the first round if he was looking good, he replied: "You've got that right." He then joked: "It's the peanuts."
Trinidad's Darrel Brown clocked the fastest time of the day, setting the standard with 10.01 in his quarterfinal heat.
The International Association of Athletics Federations later issued a statement explaining its side of the Drummond controversy. According to the IAAF, Dwight Thomas of Jamaica had made one false start in the quarterfinal heat involving Drummond, with a reaction time of 0.087second as against the accepted 0.100s.
When the race was re-run, two further false starts were made by Drummond with 0.052s and Assafa Powell, also of Jamaica, with 0.086s.
The IAAF's Rule 162.7 says: "Any competitor making a false start shall be warned. Only one false start per race shall be allowed without the disqualification of the athlete(s) making the false start. Any athlete making further false starts in the race shall be disqualified from the race.
"When an approved false start detection equipment is in operation, the evidence of the equipment shall normally be accepted as conclusive by the starter."
Despite this rule being communicated to Drummond, the American refused to accept his disqualification and held up the event, which was why the IAAF officials decided to re-run his heat after the last quarterfinal.
Image: Reuters