Lewis Hamilton's Twitter feed provided a further talking point ahead of the Belgian Grand Prix on Sunday when he sent his 997,000 followers telemetry details from his McLaren car in qualifying.
The Tweet subsequently disappeared, just as a flurry of his messages had been removed on Saturday, but not before the graph had been widely copied and repeated by others.
"Could you also tweet the race strategy and set up sheet. Thanks mate," joked former McLaren driver Alex Wurz, now working with rivals Williams as a driver coach, in a reply to Hamilton on the social network site.
Hamilton's message had intended to show his followers the difference in qualifying speed between his car and that of team mate Jenson Button, who starts on pole position for the first time in three years.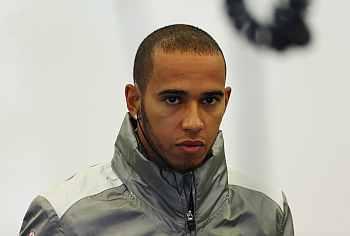 Button qualified with a new specification wing while Hamilton's side of the garage stuck with the old one and paid the price on Saturday.
The 2008 champion, fourth in the standings but 47 points adrift of Ferrari's leader Fernando Alonso, qualified in seventh place.
Formula One teams are notoriously sensitive about the release of data from their cars before a race for fear rivals could gain an advantage from it, with the telemetry potentially also revealing key details about ride height.
Hamilton's Twitter problems, with some of his Saturday Tweets including acronyms based on obscenities, remained a paddock talking point on Sunday with British newspapers also reporting the details.
The 2008 world champion, whose contract at McLaren expires at the end of 2012 although he looks set to stay, also had his defenders, however.
"Lewis is a great example and an ambassador of taking motorsport into areas where probably people wouldn't have been particularly interested because he's young, and because he's black and because he's cool and because he's got friends who are similarly cool," Mercedes GP chief executive Nick Fry told Reuters.
"Formula One is really cool, it's a really interesting thing and there's lots of different aspects to the interest. More power to Lewis by communicating to people who previously would have had no interest."
Photograph: Mark Thompson/Getty Images