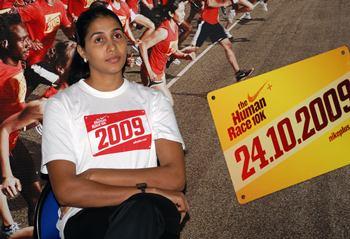 After being out of action for over a year due to an ankle injury, India's ace long-jumper Anju Bobby George has resumed training again, but sees herself in competitive contention only next year.
"I took a long break after the Olympics because of my ankle injury. I was not even training. Now I have started a bit," Anju said in Bangalore, at a function to announce the conduct of the first Nike+ Human Race 2009 in India, a 10k worldwide annual running event, in Bangalore on October 24..
Anju had a forgettable outing in Beijing, failing to qualify, three of her jumps in the qualifying heats being declared foul.
"There is some problem still. I have to tackle that. It [the ankle injury] has been with me for 10 years. I could not even walk [after the Beijing Olympics]. It was that bad a situation," she said.
Anju said she would get back to competitive action in the Doha Grand Prix in May next year, adding she is also targetting the 2010 Commonwealth Games.
While home conditions should favour her in the CWG, she expects "good competition", as there would be contenders from among some of the top six Olympians, who are expected to take part.
Registration for the first Nike+ Human Race 2009 opens on September 24, on Nikeplus.in. Runners can also register at Nike stores across Bangalore.
Registrations close on October 17. The registration fee is Rs 400 for students (15 - 21 years) and Rs 600 for others.
The registration kit for participants will include a specially-designed Nike Tee for the Race and a timing chip among others.