Briton's Andy Murray was awarded an OBE by the Duke of Cambridge, Prince William, at a ceremony at Buckingham Palace on Thursday.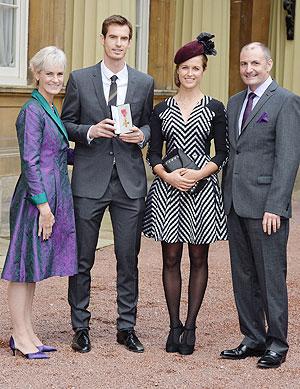 Andy was awarded his OBE in the New Years honours after his highly successful 2012 season.
Murray won the Wimbledon and the coveted gold medal at the 2012 London Olympics.
Andy, attended the ceremony alongside parents William and Judy and girlfriend Kim.
The Scotsman, nearly didn't make it to the ceremony, though. Hours before making his way to Buckingham Palace, Murray tweeted: "In the middle of a drug test hahaha I'm goin to be late!!"
Image: Wimbledon champion Andy Murray, his parents Judy and Will and his girlfriend Kim Sears pose at Buckingham Palace after being awarded the Order of the British Empire (OBE) from Prince William, Duke of Cambridge. on Thursday
Photograph: John Stillwell - WPA Pool/Getty Images