Mahesh Bhupathi and Rohan Bopanna paid the price for their rebellious act ahead of the London Olympics as the AITA dropped the duo from the Davis Cup team and instead chose youngsters for the next month's tie against New Zealand.
Leander Paes and singles exponent Somdev Devvarman were not considered after they made themselves unavailable for the tie, scheduled for September 14-16 in Chandigarh.
Sending out a strong message that indiscipline will not be tolerated, the All India Tennis Association took the brave decision to leave out the senior pros and take a step forward in preparing the team for the future.
It will be a new-look Indian team comprising Yuki Bhambri, Vishnu Vardhan, Saketh Myneni, Divij Sharan, Sanam Singh and N Sriram Balaji competing in the tie.
The squad will be pruned to four before September 2, when the team will be notified to the ITF.
While Paes wants to play in the World Team Tennis competition in Charleston, US, Somdev is still not fit enough for the Davis Cup tie although he will play in the US Open.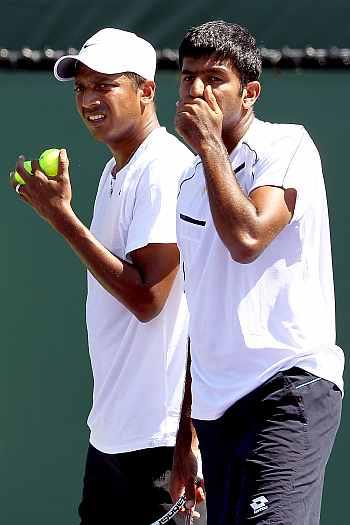 "As per the Executive Committee meeting on July 1, we got the direction that there should be a code of conduct for the players who refuse to play (as selected by AITA). We had this selection problems before the Olympics, so Rohan Bopanna and Mahesh Bhupathi were not considered," Bharat Oza, AITA Secretary General said.
Talking about Somdev and Paes, Oza said both of them had requested to be excused for the tie.
"Somdev has come out of injury. He has informed that he will not be available. Although he will play in the US Open due to ranking commitments, he is not confident about his fitness.
"Similarly Paes had expressed unavailability as he had strenuous Olympics and Grand Slam ahead. He said, "It may be a bit difficult to come out of commitment (of playing in WTT) as it is an important match, a final'," he said.
The AITA said the time has come to build the team for the future.
"The selection committee decided to try some juniors, although they are not that juniors. This is the good time to give them opportunity and play at national arena," Oza said.
Delhi teen Yuki is the highest ranked player in the side and the only one in the top-200 at 191, followed by Vardhan (285), Myneni (387), Balaji (390) and Sanam (415).
Surprisingly, the AITA chose left-handed Divij, who is ranked as low as 1310 and did not consider several other players who are ranked above him such as Vijyant Malik (470), Karan Rastogi (481) and VM Ranjeet (490).
The last time India played New Zealand was in 2004, when it had triumphed 3-2 in the away tie.
The head-to-head record is tied at 3-3.