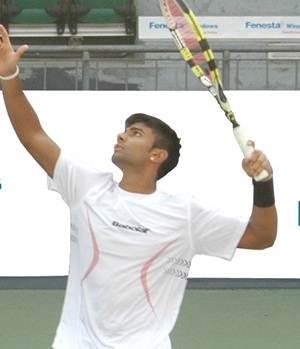 Former National champion Jeevan Nedunchezhiyan is going through a torrid time in Senegal as the airline on which he travelled there has misplaced his bag.
The young Indian tennis player without clothes, shoes and, most importantly, his racquets ahead of his doubles match in an ITF Futures event.
Jeevan, who flew by Ethiopian Airlines, was in for a rude shock after landing in Dakar, Senegal, on Sunday evening as he learnt that his bag hadn't arrived by the same flight.
Scheduled to play his doubles match with Bosnian partner Aldin Setkic later on Monday, he is now looking for at least T-shirts, shorts and shoes in the local market.
He has no option but borrow racquets from another player until he gets back his belongings.
After a bout of food poisoning forced an abrupt end to his campaign in the Raipur ITF Futures tournament last week, the Chennai lad decided to fly to Senegal to garner some points.
A victory in the tournament or a final appearance will keep him in contention for place in the Australian Open qualifiers, next month.
"It's frustrating. I have a match to play and I have no clothes, shoes, racquet. I am in a market, trying to buy T-shirts, shorts and shoes," an exasperated Jeevan, who flew by Ethopian Airlines, said from Dakar.
"As soon as I walked out, I knew it's not there. I have placed a complaint and am waiting. Let's see. There is no flight until tomorrow or day after; don't know what's going to happen," he added.
Jeevan is seeded third in singles and faces Swiss player Luca Margaroli in the US $15,000 event, to be held at the Olympique Club.
In the doubles, Jeevan and Setkic are seeded second and open their campaign against Malaysia's Mohammed Assri Merzuki and Czech Republic's Ivo Minar.
Image: Jeevan Nedunchezhiyan