Quinton Jacobs, an ex-Namibian captain is presently playing in the 2nd division league for United Sikkim Football Club (USFC). Had Lady Luck shined on him, Quinton would have worn the Manchester United shirt but despite being offered a contract by manager Alex Ferguson in 1997, Jacobs was denied a chance to play in the English Premier League because he could not secure a work permit since his national side was ranked below 50 in the FIFA rankings.
The ace footballer speaks about his stint with English giants Manchester United and his recent brush with India.
What brings you to India?
It's a new challenge. To be honest, I was a bit skeptical at the outset. After-all, it's a different culture and I had no idea about the footballing structure in the country. But as fate had it, I was destined to play and am enjoying it fully.
You had a stint with Manchester United. Tell us more about it.
It happened immediately after the Helsinki Cup in 1997 when I was representing the Namibian U-19 side. We beat Manchester United's U-19 squad by a solitary goal and I scored the match-winner. Impressed, the Red Devils called me for trials. The entire squad was there -- Paul Scholes, Ryan Giggs, David Beckham and manager Sir Alex Ferguson.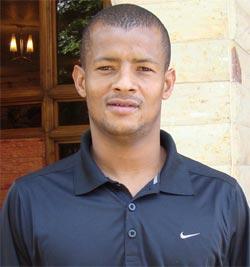 And as luck would have it, they offered me a contract. But I was unable to get the work permit as Namibia were at that time, ranked below 50 in FIFA rankings.
For an 18-year old, how much of a frustration was that? How did you cope up?
Needless to say, I was shattered. Almost immediately, I got offers from Ajax and Werder Bremen, both of which I rejected and instead moved to Partick Thistle, a Scottish second division club. Life is all about destiny. But the beauty of football stays that it rejuvenates and inspires you to go forward towards your goal.
What is your impression of the Indian players you have come across?
Quite good. In fact, I feel some should play abroad. Two youngsters, United Sikkim's Beikokhei and Ar-Hima striker Eugeneson Lyngdoh have impressed me. They just need to work on their fitness. And I gather the I-League has better players in it.
Would you come back to India next season?
It depends on the offer. I am already in talks with a South African club. But as I said, life is all about destiny.