It is time for that Total 90 ball to roll back on to our television screens. The most identifiable symbol of the English Premier League returns this weekend after a break for the Germany 2006 World Cup qualifiers.
First up on ESPN this 'super Saturday', Chelsea vs Aston Villa at 1715 IST. We all know what happens when there isn't any play. Tongues start wagging. Jose Mourinho was quoted during the weekend off as saying that Chelsea would be targeting at least 100 points this season. I'm sure under the orders of Roman Abramovich. Screw the beautiful game, give me a hundred points. Although they are on course with four wins in four matches, Aston Villa are no pushovers. Fresh from a win against Newcastle, Juan Pablo Angel and Gareth Barry will be hard to contain.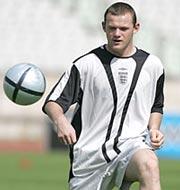 Villa with a win could jump to third in the table. Also, Chelsea's Didier Drogba and Tiago are beginning to look like the stars of the EPL this season. Watch out for them.
About that Newcastle loss, pardon me for returning to it. What were they thinking when they let Sir Bobby Robson get into his car and drive out of St James's Park forever? If there's any romanticism left for a football fan, it's at Newcastle. They may not have seen silver for 35 years, but if you wanted a shock result, St James's Park was the place. And now, with but two points from four games and bad signings, they are left with Alan Shearer to show them the romance. He hasn't exactly been secretive about eyeing Robson's job either.
Perhaps it was time for Sir Bobby. But not that way. They take on fellow two-pointers Blackburn, but back to games you can watch live.
Bolton Wanderers vs Manchester United is also on ESPN at 1930 IST on Saturday. When last Bolton was in third place while Man U languished in eighth, I fail to recollect, but such is the story of the Reds.
Oh, before that let's discuss the Wayne Rooney transfer. Lots of money, good player. No issue. Call him the new Pele? BIG ISSUE! That's like a Roberto Carlos free kick in your solar plexus. You fools, can you see the colour of his skin? Have you ever seen him juggle the ball? Have you ever seen him dance with the ball? All he can do is one touch, two touch, boom. Does the grace of the samba look like potatoes and beef or fish and chips to you? Fools!
It looks like Manchester United are resorting to the Rednecks. Pun intended. First Alan Smith, with a racist background of attacking Asians, and now Wayne Rooney. An unmissable match with Bolton's Jay Jay Okocha and Hendrik Pedersen looking brilliant as well. Don't miss it.
At the same time as the Bolton-Man U game, STAR Sports has defending champions Arsenal taking on Fulham. Henry, Bergkamp, Ljungberg, Vieira, Pires, Cole, Campbell. Need I say more? Of course they also have the ESPN-STAR and my player of the month – Jose Antonio Reyes, who celebrated his 21st birthday on the 1st of September. Unassuming, affable, and deadly. Watch out for him.
Portsmouth take on Crystal Palace as well on ESPN at 2145 IST, if you are interested in bottom-table happenings.
The question of course on everyone's mind is whose unbeaten run this season will be broken first – Arsenal, Chelsea or Tottenham's?
If you are a Primera Liga fan, ESPN has Barcelona taking on Sevilla at 0130 IST on Sunday. Real Madrid vs Numancia is at 1430, though not live. The Barca game should be a cracker, with both teams coming from wins in the first round. Also, everyone is all praise for Michael Owen and his assist for Ronaldo's first and Real's only goal. After Luis Figo questioned Owen's inclusion in the side, it should be an interesting watch.
Will David Beckham play after a disastrous World Cup qualifying campaign? We'll wait and watch. Meanwhile, enjoy your weekend.