Home > India > Sports > Olympics 2008 > Report


Discuss |
Email |
Print | Get latest news on your desktop

Attack-hit west China tightens security

August 05, 2008 10:04 IST



China's tense Xinjiang region announced sweeping security checks of transport on Tuesday after assailants used a truck to mount a deadly attack on police days before the Beijing [Images] Olympic [Images] Games open.

The two assailants, who state media have suggested were separatist militants, drove a truck towards exercising border police in Kashgar, home of many Uighurs resentful of Chinese control of the northwest region.

Sixteen police were killed and another 16 wounded after they threw explosives.

In a sign of the alarm set off by the attack, the Xinjiang transport office announced a regionwide campaign to ensure the security of trucks, buses and transport hubs.

"The whole region's transport network must establish a dense atmosphere of secure transport and production," the region's official news website reported, citing an "urgent directive" from the government.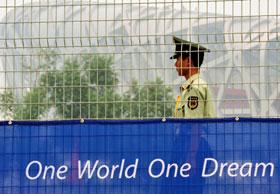 The Xinjiang transport office met to "make detailed and comprehensive arrangements for the stability and security of the transport system," said the report.
It did not, however, directly mention the attack and did not say when the meeting took place, suggesting it may have pre-dated the attack.
Xinjiang's 8 million largely Muslim Uighurs have been a focus of intense security in the run-up to the Games that open on Friday. Officials have said militants seeking an independent "East Turkestan" homeland are among the biggest threats to the Games.
Kashgar, the regional capital Urumqi and other centres must carry out detailed security inspections of bus stations, highways and fuel stops, the directive said.
Email |
Print | Get latest news on your desktop