Home > Sports > > Football Fiesta > Specials


The Rediff Special/Indrani Roy Mitra

'Beckham's smile can melt a box of bon-bons!'

June 21, 2006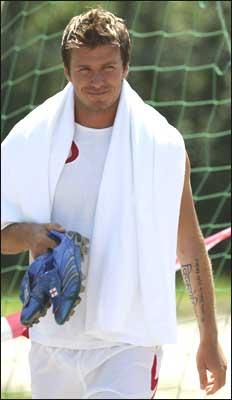 Ihave not been able to watch the World Cup matches regularly as I was in and out of town," says Bollywood actress Raima Sen.
"Whenever I get a chance I switch on the television set to catch a glimpse of my favourite players."
Have YOU joined a football team yet?
"Some of them are so cute! I just can't take my eyes off them. Whenever there is an England match, I make it a point to see at least the highlights.
How can I miss the chance of seeing (David) Beckham? I don't have any qualms in admitting that I like Beckham more for his looks than his game. His smile is sure to melt a box of bonbons. And I love Ronaldinho's hair style!" she adds.
'Germany could win the World Cup'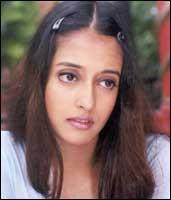 "Going by the matches I have seen so far, Ronaldinho has touched my heart. Initially I had thought Italy would do well, but the team's performance till date has not been up to the mark," says the actress, who acted in her first film when she was 17.
Check out all our exciting Football Fiesta slide shows
Which team should win the World Cup? "Brazil, of course! It would be quite an experience to see (my favourite) Ronaldinho's team lifting the cup."
Photographs: David B/AFP/Getty Images and Rediff Archives
More Specials



What do you think about the story?








Read what others have to say:





Number of User Comments: 8








Sub: Bunkum report

Of all ur stories on the WC this has to rank as the most childish and idiotic.. Beckham is a 3rd rate palyer at best ...


Posted by Gaurav









Sub: not for rediff

This kind of news may be relegated to third grade magazines, not for rediff web site.


Posted by thiru









Sub: what kind of article is this?

Who has time to care what Raima Sen thinks? Most of them don't even know who is Raima Sen. Dear rediff please stop posting all ...


Posted by HDM









Sub: Worst article

How can rediff post such a article on the front page. Raima is talking about the footbal players, but she does not know anything about ...


Posted by Jaideep









Sub: Why see highlights?

I do not understand, whats the need of watching highlights! Just download a mobile paper and watch it whenever u feel like. What a stupid ...


Posted by Anu






Disclaimer