Home > Sports > > Football Fiesta > Specials


The Rediff Special/

'Germany could win the World Cup'

June 20, 2006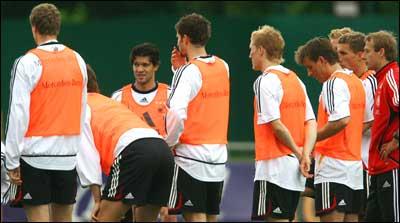 Who will lift the World Cup? Former Indian football captain I M Vijayan pauses before answering.
A deep breath later, he says, "There is a chance for Germany to come out with a convincing win."
Vijayan is all set to travel to Germany to catch the action first-hand. "Yes I am going," he confirms, "but the funds have been a problem."
Check out all our exciting World Cup slide shows
The problem seems to have been solved now, because a company based in his hometown in Thrissur, Kerala, is sponsoring his trip. This will be the first time Vijayan will watch the World Cup.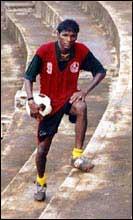 Any chat with an Indian footballer must veer round to the question about whether India can ever play in the World Cup.
"We can, but we need to have great facilities. We need to have enough funding," is Vijayan's answer. He hopes the World Cup fever will prompt the government and corporate honchos to fund football in India.
Why Omar Abdullah supports England
For the last five years, Vijayan has been trying to set up a football training academy in Thrissur. But shortage of funds has tripped his plans so far.
"Though I have retired from the national team, I wanted to train the boys in India to make a name for the country in football. But look, I am unable even to fulfil my dream of setting up an academy," he says.
Vijayan quit the Kerala Police team in 1991 to move to Kolkata club Mohan Bagan; he retired some years ago.
His favourite footballer? "I am a great fan of (Diego) Maradona."
A final between Brazil and Argentina!
Zico, the former Brazilian striker who is now the coach of the Japanese team, is another of Vijayan's idols. "He was such a skilful player. I was heartbroken when he missed that penalty against France in the 1986 World Cup," Vijayan recalls.

German team photograph: Oliver Lang/AFP/Getty Images
More Specials



What do you think about the story?








Read what others have to say:





Number of User Comments: 31








Sub: Who will win world cup 2006

i feel England & Germany have more chance of winning cup but still some good teams are there like The Netherlands Note:Brazil won't win this ...


Posted by nirmalkumar









Sub: final match of football

i hope germany & brazil will fight for the crown after the grate battle germany will lift the troffy prasad


Posted by prasad_tonpe









Sub: Welt Cup

Germany or Spain will be the Winner of World Cup 2006.


Posted by Pramod BANIYA









Sub: the Nazis will surely grab the World Cup 06

Germany has indeed a glittering chance to win the cup as most of their players are in splendid form. the performances delivered by them against ...


Posted by sidharth









Sub: Germany could win World Cup

Germany would this time no doubt win the World Cup 2006 as it has got powerful thirsty shooters like Klose but Brazil have many like ...


Posted by Prashantha Bose






Disclaimer