Home > Sports > Interviews


The Rediff Interview/Jeev Milkha Singh

The monkey is off my back: Jeev

April 16, 2006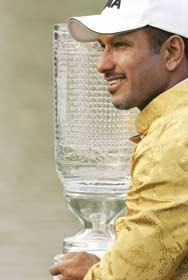 Jeev Milkha Singh, India's hero on the Asian PGA Tour, first came to Beijing as an amateur in 1990 when he represented India at the Asian Games.
Sixteen years later, the Chinese capital has infused a fresh lease of life into a career that has been meaningful for Indian golf yet without much success for the last seven years.
Jeev, 34, now has five titles on Asian Tour, but Sunday's victory was his first on the European Tour as the Volvo China Open is a co-sanctioned event between the Asian and European Tours.
In an exclusive interview to PTI soon after the victory, Jeev spoke of the long wait and the way ahead.
It's been a long seven years and now you're here with a big trophy?
I just can't explain this feeling. It's like a dream come true. I've always tried hard to win and today, I just went in there with reverse psychology thinking that if it doesn't happen, never mind. I just wanted to give it my best shot. And it worked out perfectly for me.
I'm really excited and happy the way it worked out. The seven-year-itch is over and the monkey is off my back.
What was the key for you out there?
I focussed really well today. My composure was good too. I think two putts coming into the last two holes made a lot of difference. I made a birdie on the 14th and a good putt for par on 15th.
Coming into the 18th, I saw Govzalo Fernandez-Castano was 10-under and had bogeyed the 18th. I was on the left side of the fairway in the rough and decided that I would not try to be a hero and go for the flag and instead play safe. If I make a par, good, but if I made bogey, I'd still win the tournament.
Can you tell us what happened at the 11th hole?
I hit my drive left and didn't think it would go that far left. I don't know what happened. My ball was down there and a guy was walking with it in his hand. Then he couldn't understand me and I asked someone from Richtone (promoter), who spoke English to please ask him where the golf ball was.
There were so many people saying so many things to him that he got confused and just let the ball go and I didn't know where he put it. I told him to relax and the rules official came and told him to tell me where the ball stopped.
While he was doing it, someone from the gallery came out and kicked him! I called the rules official who told me where to drop the ball and I played it from there.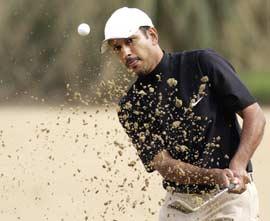 You're an attacking player but on 18th you held back, which is not the Jeev we know?
I have let so many tournaments go in the last four or five years that I learned that it hadn't worked for me. So I might as well step back. When I saw that guy bogey, I thought I did not need to get the water into play on the left and just decided to hit to the right of the green. If I two putt, well and good, but I would have won with a three putt too.
Did the recent losses (he finished second five times since 1999) play in your mind before the day started?
It did play on my mind. I think I used to put more pressure on myself playing in the last round to try and get the job done. I've let so many tournaments go and I just said if it's another one, let it be. If I play well, it'll be a bonus. If I don't it's one of those weeks and I'm going to keep trying.
Two years exemption now in Europe, will you take it again?
I'm going to play in a few events for sure. The main tour that I've been playing has been in Japan in the last four or five years and I'll see how things go. I'm going to divide my time. Obviously, I'll play in Asia, a few in Europe and Japan.
After your wrist injury (in 2000), how gratifying is this win?
It's fantastic. When I was injured, I didn't know if I was going to come back in the sport. When I came back I wasn't thinking the same way. I was struggling, I was putting pressure on myself and getting down. And after that, you don't think right.
I started working hard and the wrist became better and things started looking up for me. I've just won and it's one of the best feelings. I took a medical exemption for one year in 2000.
Your father (Milkha Singh) is a hero in India, are you looking to follow his footsteps to glory?
I hope so, but I think my dad is a bigger hero still!
More Interviews