Home > Sports > Formula One > Reuters > Report


Narain needs to improve: Jordan

Alan Baldwin | June 10, 2005 22:17 IST



India's first Formula One driver Narain Karthikeyan has been told to raise his game by the Jordan team.

"We are all aware that the drivers are rookies," said team boss Colin Kolles at the Canadian Grand Prix on Friday.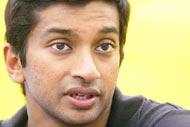 "I was not very happy with the performance of Narain in Monte Carlo, I was not very happy with his performance at Nuerburgring.
"He knows this, I told him this," he added.
Neither Karthikeyan nor Portugal's Tiago Monteiro have scored a point yet in seven races for a team struggling at the back of the grid, although Monteiro has managed to get to the finish every time.
Karthikeyan failed to finish in Monaco and came home 16th at the last European Grand Prix behind his team mate after outperforming Monteiro in the opening two races.
The Indian has also been outqualified by Monteiro in the last two grands prix.
"At the beginning Tiago was a little bit behind Narain, now Tiago is doing a better job," said Kolles. "This also has something to do with experience.
"I think both drivers are not as bad as they look, we have to give them a better car and then they will look much better. We are realistic enough to know that the car is not a good car, you can see it on the track."
While Karthikeyan has no previous experience of Montreal's Gilles Villeneuve circuit, Monteiro has driven there before during his time in the U.S. ChampCar series.
| | |
| --- | --- |
| | Also Read |
| | |
"I think he is putting himself a little bit too much under pressure and he is a little bit overdriving the car," Kolles said of Karthikeyan.

"This is what I hear from the engineering side. I hope that it will improve."

Kolles believed Karthikeyan, who brings useful sponsorship from an important market for Formula One, had a future with the team that will change its name to Midland next season. There were plenty of candidates, however.

"We are speaking to several drivers," he said.

Kolles said the Toyota-powered team were also close to announcing an engine deal for 2006, possibly within days.

"I think we are happy, they are happy," he said when asked whether Toyota were likely to continue their partnership.

© Copyright 2005 Reuters Limited. All rights reserved. Republication or redistribution of Reuters content, including by framing or similar means, is expressly prohibited without the prior written consent of Reuters. Reuters shall not be liable for any errors or delays in the content, or for any actions taken in reliance thereon.


Formula One: The Complete Coverage



What do you think about the story?








Read what others have to say:





Number of User Comments: 2








Sub: Narain

Why does Narain need rear-view mirrors on his car?


Posted by GB









Sub: Another sania mirza?

Karthikeyan too seems to be going down the Sania Mirza route... performance blown out of proportion by the media... How much of NK's inclusion in ...


Posted by Arun






Disclaimer