Home > Sports > Formula One > Reuters > Report


No more mistakes, vows Williams

Alan Baldwin | February 01, 2005 11:08 IST



Williams launched their 2005 Formula One car on Monday with new drivers and a steely determination not to repeat last year's mistakes.

"We want to move back into the winning lane," said Frank Williams, whose BMW-powered team finished a disappointing fourth overall last year after a troubled start to the year with the ill-fated 'walrus-nosed' FW26.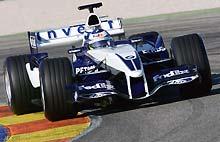 "The mistakes of 2004 must not happen again. We must implement the new regulations to our best advantage and be completely with it when it comes down to it."
BMW motorsport director Mario Theissen added: "For four years we surpassed our targets. Then in 2004 we found ourselves in a trough, failing to meet our expectations for the first time.
"We now aim to accumulate successes once more with renewed strength."
Williams, who were last world champions in 1997 with Canadian Jacques Villeneuve, won the last race of 2004 in Brazil through Juan Pablo Montoya.
Both the Colombian and his German team mate Ralf Schumacher were disqualified in Canada for technical reasons, however, and Montoya was also ruled out of the US Grand Prix, where his team mate crashed heavily.
While champions Ferrari, in a class of their own following 15 wins in 18 races last year, start the season on March 6 with an unchanged line-up, both Montoya and Ralf have moved on.
Williams now look to Australian Mark Webber and Germany's Nick Heidfeld, two drivers who have yet to win a race, to get back into championship contention.
FRESH FACES
Only Heidfeld, announced by the team after a decision on Monday morning, has stepped on to the podium before, while Webber's best performance remains fifth place on his debut for Minardi in 2002.
Heidfeld, 27, has 84 Grands Prix under his belt, with a third place for Sauber in Brazil in 2001, while the 28-year-old Webber has 50 starts with Minardi and Jaguar.
| | |
| --- | --- |
| | Also Read |
| | |
"I have every confidence that our drivers will be a major catalyst this season," Williams said.

"Not only will they be taking every opportunity to demonstrate that our decisions to employ them were well placed, but also you cannot underestimate the incentive it provides to everyone in the company, and at the trackside, to be working with new faces."

The new car reflects rule changes introduced this season, with changes to the aerodynamics leading to a higher front wing and the rear wing moved forwards.

Williams, with smaller side-pods and returning to a single-keel design, was their lightest yet.

"While reducing weight, a lot of attention has been placed on reliability, in particular the gearbox," said technical director Sam Michael.

"The FW27 gearbox has been running on the track since November 2004 with no major problems and any issues we had with last season's gearbox have been resolved."

© Copyright 2005 Reuters Limited. All rights reserved. Republication or redistribution of Reuters content, including by framing or similar means, is expressly prohibited without the prior written consent of Reuters. Reuters shall not be liable for any errors or delays in the content, or for any actions taken in reliance thereon.


Formula One: The Complete Coverage