Home > Sports > News > Reuters > Report


New Williams a nose ahead

Alan Baldwin | January 08, 2004 21:10 IST



Ugly ducklings can turn into swans.

Williams certainly hope so after unveiling a Formula One car whose place in the beauty parade lies somewhere between a walrus and a hammerhead shark.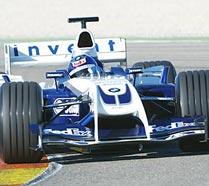 The launch of the FW26 in Valencia at least provided a variation on a favourite Formula One cliche at this time of year.
Every season drivers greet the unveiling of their new challengers with enthusiastic soundbites promising the world that if the car is as good as it looks then the team is on to a winner.
There were a few open mouths in the audience at the Ricardo Tormo circuit when the covers came off but words other than 'beautiful' came out.
Radical, yes. Innovative, certainly. Ugly duckling, absolutely.
Just what kind of creature was this stumped-nose thing with a front end distinct from anything hitherto seen in Formula One?
Never mind Ferrari's predatory shark-nose Tipo 156 of 1961. This Williams bore more of a resemblance to the Hammerhead variety.
Some saw tusks, a touch of the Sabre-toothed tiger or Manta Ray.
For a team whose last car had a troubled debut and was compared unflatteringly to a tortoise, before it turned into a hare and started winning races, it was to be expected.
NO BEAUTY
"I don't think it's very pretty but I shall certainly fall in love with it if it's a winner," commented team boss Frank Williams.
| | |
| --- | --- |
| | Also Read |
| | |
"It's much worse from Frank's point of view because he hasn't got as much space in terms of marketing exposure on the upper surface," added technical director Patrick Head.

"But I think knowing Frank for a long time he'll be happy with it if it's fast and generally I agree.

"I don't think that in itself it is a thing of beauty but if things are fast they tend to look pretty good as well."

Formula One's technical rules are so rigid that anything out of the ordinary, any new solution, is sure to create a stir and this one did that.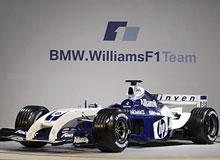 While the Williams nose job is more than mere cosmetic surgery (even if some suspect the car might not look quite so radical when the season starts), it is nothing compared to some of the offerings seen over the years.
For the genuinely radical, consider the six-wheeled Tyrrell P34 of 1976 or the Brabham BT46B of 1978 with a rear fan that helped the car grip the track like a limpet. It was a winner before being banned.
There was also the March 711 of 1971, with a front wing likened to a raised tea tray or dinner plate, and the futuristic Arrows A2 'buzz bomb' of 1979.
"Obviously the regulations are quite restrictive in terms of freedoms for the cars to be much different," said Head.
"Certainly with the aerodynamics side everything is enormously interactive once you have chosen a particular front wing geometry...that front wing conditions the air flow that flows over the rest of the car.
"But I think its good for Formula One if all the cars don't look identical."
AIR FLOW
The Williams's broader and shorter nose requires the jutting tusk-like pillars to carry the front wing. The result is distinct but also undeniably tidy.
Apart from McLaren, whose new challenger ran last year and is a development of the MP4-18 that never raced in 2003, no other team has unveiled a 2004 car yet.
It could be that they have surprises up their sleeves. Sauber are next out with their car and they will undoubtedly be busy in the wind tunnel in the next few months looking at noses.
"Maybe other people this year will be using that solution but I really don't know why it hasn't been done before," admitted Head.
"We had to put a lot of time and a lot of research and testing into being able to satisfy the crash test requirements but now we are very happy with the solutions which have been achieved."
The car is already flying in testing, with Montoya quickest in Jerez. The start of the season in Australia on March 7 could see the swan spread its wings for real.
© Copyright 2005 Reuters Limited. All rights reserved. Republication or redistribution of Reuters content, including by framing or similar means, is expressly prohibited without the prior written consent of Reuters. Reuters shall not be liable for any errors or delays in the content, or for any actions taken in reliance thereon.