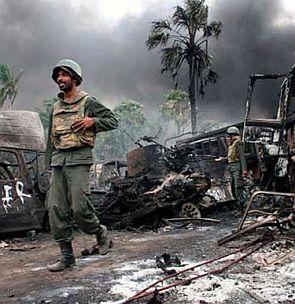 It is exactly 26 years since the Indian Peacekeeping Force launched Operation Pawan in 1987 to take control of Jaffna from the Liberation Tigers of Tamil Eelam and disarm the Tigers as part of the Indo-Sri Lanka Accord. The army took control of the peninsula in nearly two week of brutal fighting, something that the Sri Lankan army had tried and failed to achieve for several years.
The main task of the IPKF was to disarm the different militant groups, not just the LTTE. The force was initially not expected to be involved in any significant combat. However, within a few months, the IPKF became embroiled in battle with the LTTE to enforce peace.
The differences started with LTTE trying to dominate the interim administration, and also refusing to disarm. Soon, these differences led to the LTTE attacking the IPKF, at which point the IPKF decided to disarm the LTTE militants, by force if required. Given LTTE's tactics in guerrilla warfare and using women and child soldiers to fight battles, it soon escalated into repeated skirmishes between the IPKF and LTTE.
The IPKF began withdrawing from Sri Lanka in 1989. The last IPKF contingents left Sri Lanka in March 1990.
We present to you a special series that we had done 10 years after the IPKF withdrew from the island nation.