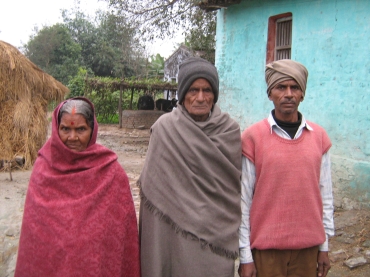 A Ganesh Nadar travels to Anjani, a village in Bihar, doomed to decades of deprivation.

For the villagers of Anjani, a not-so-small village tucked away in north Bihar's Vaishali district, India's big-power ambitions mean little.

Anjani is yet to see the light, literally so.

The thousand-odd residents of Anjani have lived in darkness for decades as the village has no electricity.

According to village elders, Anjani did receive power supply till 1975, but it was cut off abruptly. Tired of waiting for power, villagers uprooted the electricity poles and sold off the wires.

The village also has pipes laid, presumably to supply water, but the actual supply of water has remained, well, a pipe dream.

In a it-only-happens-in-India case, a canal that connects the Gandhak river with the village has never supplied even a drop of water.

According to the villagers, the canal is at a greater height than the river bed and therefore cannot channel its water.
Rainwater floods the river each year, but there is no system in place to collect and store the water for future use.
The agrarian population of the village make do with rainwater. The villagers have to use water from hand pumps for everyday usage.
Local children have to go to Parsa, four kilometres away, to attend higher secondary school. The nearest primary health centre, police station and hospital are all located in Parsa.
Some residents watch television by powering the sets with batteries.
Every evening, from 7 pm to 9 pm, a sole bulb lights up Anjani. It does so with the help of a diesel generator, at the cost of Rs 60 per month.
Pasupati Singh, who has passed the Class 10 examination, works in the fields and rears buffaloes.
These days, the villagers harvest sugarcane, which is sold to local residents and later processed into jaggery. The villagers used to sell the sugarcane to a sugar mill in Mathura, but it has shut down.
"I lost Rs 10,000 when the mill shut down, Pasupati Singh tells me. "Many farmers lost money when that mill closed down."
The local legislator belongs to the ruling Janata Dal-United party. Nitish Kumarji, before you set your sights on the prime minister's post in Delhi, please electrify this village and provide safe drinking water to its villagers.
Image: Pasupati with his parents | Photograph: A Ganesh Nadar