Sardar Buta Singh, Bihar's governor, has long been used to hitting headlines, especially when he served Rajiv Gandhi as home minister.
The latest ones concerning his actions in Patna, however, aren't exactly welcome.
If this is where you came in, a quick guide to the action you've missed:
Buta who?
Born in Jalandhar on March 21, 1934 to the late Bir Singh and Beant Kaur, Buta Singh was educated at Lyallpur Khalsa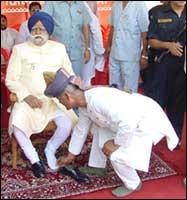 College in Jalandhar and Mumbai's Guru Nanak Khalsa College. He was awarded a BA (Honours) and went on to complete his masters. His profile at the Lok Sabha lists his profession as 'agriculturist and journalist.'

Buta Singh married the late Manjit Kaur in 1964 and has two sons -- Sweety and Lovely, who, critics say, exercise more power in present-day Bihar than the governor -- and a daughter.

Since the 1960s, Buta Singh has enjoyed a long, colourful career in politics. We know him, today, as the governor of Bihar, a post he took up on November 5, 2004.

Buta why?
Why is he in the news again? In case you haven't been following developments in Parliament, Buta Singh is now the man of the moment on account of his writing a letter. Yes, a letter. On July 5, 2005, he allegedly wrote to Railway Minister Lalu Prasad Yadav, requesting favours for two senior railway officers -- Vijay P Meshram and Girish Bhatnagar. He wanted one to be made controller of stores of the Central Railway; and the other to be given the post of assistant general manager, Central Railway (Mumbai).

Lalu was then quoted as saying he had appointed Buta Singh as governor. Everyone went ballistic. On Tuesday, Singh's letter rocked both Houses of Parliament. The Bharatiya Janata Party-led Opposition forced the adjournment of both Houses until noon. They termed the incident 'immoral' and a 'denigration of the post and prestige of the office

of the governor.'

New to controversy?
No, controversy has never left Buta Singh alone for long. It has doggedly followed him for years. Following the 1984 anti-Sikh riots, Buta Singh became one of the prime targets of Sikh militants for his supposed inaction.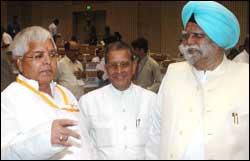 It didn't stop there. Long before he annoyed people by dissolving the Bihar state assembly in 2005, there were other unflattering stories making the rounds, of him taking unconstitutional steps to help dubious characters and punish police officers. His transfer of 17 senior IPS officers led to an agitation led by George Fernandes and Lal Kishenchand Advani, both of whom alleged that the 'Constitution, rules of executive business and norms' were being 'flouted with impunity.'
How did he get to where he is?
As mentioned, it's been a long career, going back to 1962, when Buta Singh was elected to the third Lok Sabha. He has, since then, handled a gamut of roles, from convenor, All India Congress Committee to Union deputy minister (railways), Union deputy minister (commerce), general-secretary (All India Congress Committee), Union minister of state (shipping and transport), Union agriculture  minister, member, committee on communications.
Then, suddenly, not so long ago, Buta Singh dropped out of sight. He was, for all intents and purposes, lost in the Congress woodwork. He had ceased to be important, and was remembered solely as former Union home minister. Politics, however, is an unpredictable beast. Buta Singh lost his Jalore Lok Sabha seat in Rajasthan in 2004 to former BJP president Bangaru Laxman's wife Sushila Laxman, but came back soon after to rule Bihar. Complicated, but true.
What happens next?
Always a good question. But, as with most things related to Parliament, not one that boasts definite answers. Buta Singh may be at the receiving end of a few brickbats at the moment, but he could well bounce back. If all else fails, he always has recourse to his favourite pastimes -- 'reading, writing articles on Harijan problems, and working for the upliftment of agricultural labour.'
Photographs: Saab Pictures