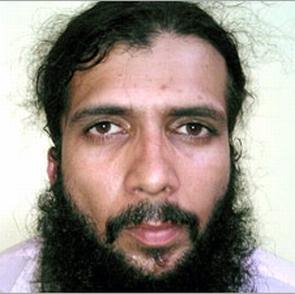 The National Investigation Agency team that brought Indian Mujahideen co-founder Yasin Bhatkal to Bihar's Darbhanga district, raided at least half a dozen places to nab other terror suspects on the basis of information provided by him, on Saturday.
A district police official said that Bhatkal was brought to Darbhanga by NIA officials, who conducted raids at several places including places where he reportedly resided during his stay in Bihar nearly two years ago. According to police officials, the NIA team will take Bhatkal to neighbouring districts of Samastipur and Madhubani in search of OTHER Indian Mujahideen operatives.
Bhatkal, along with his close aide Asadullah Akhtar was arrested from Raxaul in east Champaran district on the India-Nepal border last month. He confessed that he was the brain behind the recruitment of youth in Bihar to carry out terror attacks across the country.
Bhatkal was wanted by the police in 12 states for bombings and other terror activities in the last five years.