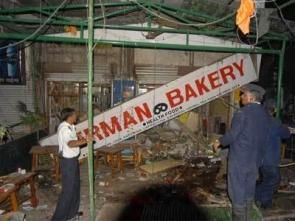 Confessions by Indian Mujahideen operative Yasin Bhatkal negate the Maharashtra ATS theory that convict Mirza Himayat Baig played a role in the Pune attack. Vicky Nanjappa reports
Investigations in Pune's German Bakery blasts case that claimed 17 lives seem to have taken a new turn. Confessions by Indian Mujahideen's Yasin Bhatkal have put a big question mark on the evidence collected by the Maharashtra Anti-Terrorism Squad.

Yasin, one of the masterminds of the German Bakery blast, has said Mirza Himayat Baig, sentenced to death in the case, was not connected to the attack. His confessions come weeks after Baig wrote to the Bombay high court in September, pleading that he has been falsely implicated, and that the case should be probed again by the National Investigation Agency.

Home Minister Sushilkumar Shinde may have ruled out a reinvestigation, but political parties have wasted no time to jump into the middle of what appears to be a growing controversy. The Samajwadi Party has demanded a re-probe, as Bhatkal's interrogation has now given the case a whole new dimension.
The case built by the Maharashtra ATS in terror attack on the bakery led to the conviction of Baig. He has claimed on several occasions that he had noting to do with the case. And backing his claim is Bhatkal, who played a major role in the blasts.
The NIA, which is now probing Bhatkal, has found a large number of discrepancies between his confessions and the chargesheet filed by the ATS.

Yasin has made it clear to the NIA that Baig was in no way connected with the case and his name had been falsely added in the ATS chargesheet.
According to the ATS chargesheet, the bombs that exploded at German Bakery were prepared by Baig and were assembled at his computer shop in Latur. He then carried the bombs to Pune in a bus.

This theory has been negated by Yasin, the key bombmaker of the IM. "We had procured the material from Pune and assembled the bombs in the city itself," he told the NIA. "Baig was not part of this operation. It was too risky to prepare the bombs in some other city and then transport them."
Yasin said that the IM had planned to target two places -- the German Bakery and Dagadusheth Halwai Ganapati Temple, and hence two bombs were prepared. "The temple operation was handed over to Qateel Siddiqui (killed in Pune jail). He, however, failed to plant the bomb and in panic fled the temple. He threw the bomb into the sea," he added.

"At the German Bakery, it was me who planted the bomb and that operation was a success. I was the one who arranged for the bombs with the help of Riyaz Bhatkal," confessed Yasin.

This clearly is contrary to the ATS claim that blames Baig for the entire operation. The government may have ruled out a reinvestigation, but investigators said that Yasin's statement cannot be ignored. The NIA now has an option to file a separate chargesheet on the basis of Yasin's interrogation.

NIA sources told rediff.com that there is credence in Yasin's revelations. In case, the NIA goes ahead and files a separate chargesheet, it would contradict ATS' findings in the case.

The only option would be to conduct a reinvestigation in the case and go with what the NIA chargesheet says. The matter is now brought to the notice of the Bombay high court, which will hear the case against Baig. The court can order a re-probe.

A source in the Maharashtra ATS, however, said that what Yasin was saying couldn't be taken at face value. "He is a criminal at the end of the day and will look to discredit our investigation. We are not averse to a re-probe and are confident that our case would stand judicial scrutiny," the officer insisted.

Image: The German Bakery blast in Pune left 17 dead and over 60 injured on February 13, 2010