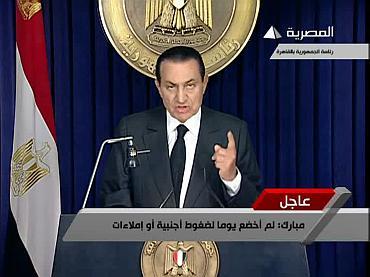 Egyptian President Hosni Mubarak said he would remain in office and only transfer power after September's presidential election. Speaking to the nation in a televised address, contrary to expectations, Mubarak stuck to his guns and said that to his resignation 'at this time would lead to chaos.'

Mubarak has promised that he will not stand for September's presidential election. He vowed to hand over power to whoever was elected in September.
Mubarak praised the "youth of Egypt" who have been at the forefront of the protests in Cairo.

Mubarak made it clear that he would only hand over power after the September presidential election. Mubarak also announced amendments to the constitution and is said to have transferred some of his powers to Vice President Omar Suleiman. 
In a rebuke to calls from foreign governments for him to step down, Mubarak said he would not 'listen to diktats from abroad.'
Mubarak spoke of his military service and said that he would do his best to protect 'Egypt.' The Egyptian strongman called for an end to the protests saying, " Egypt has gone through some difficult times and we cannot let this(protests) continue."
After Mubarak, Vice-President Omar Suleiman said that the protests had their effect and constitutional changes would go ahead. Suleiman said that he had been directed to preserve 'the stability and security of Egypt.' He urged the protestors to return home. Suleiman asked the youth 'not to listen to the television and radio stations as their main purpose was to drive a wedge among the Egyptian people.'
As it became apparent that Mubarak was not about to resign, the crowds in Tahrir square reacted angrily. Most chanted slogans against the government and planned a march to the presidential palace in Cairo.

Image: Egypt's President Hosni Mubarak addresses the nation in this still image taken from video.
Photograph: Reuters TV