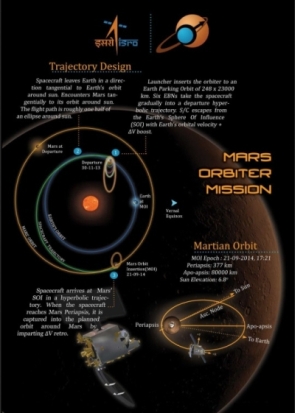 The final countdown for India's historic Mars mission kicked off at 6.08 am today.
Nearly a thousand scientists of the Indian Space Research Organisation are working towards completing the second stage propellant filling operations early today morning.
All vehicle systems were switched on for the final countdown.
The prestigious Rs 450-crore mission, known as Mangalyam, will be launched at Shriharikota at 2.38 pm today.
Earlier in the day, ISRO chief K Radhakrishnan offered prayers at the Tirumala temple with a miniature replica of the Mars orbiter.
While Radhakrishnan informed media personnel that the spacecraft is expected to reach Mars on September 24, 2014, project director M Annadurai claimed that he was satisfied with the preparations for the launch.
ISRO is hopeful about a successful launch despite the Meteorological department predicting heavy downpour in coastal Tamil Nadu in the next 48 hours.
The vehicle tracking stations at Port Blair, Bylalu and Brunei have been put on alert.
The sea borne terminals aboard Nalanda and Yamuna, two vessels of the Shipping Corporation of India, have also been put on alert.
These terminals will capture the movement of the vehicle injecting the satellite which will take place 40 minutes after the take-off.