After its stellar poll show in Uttar Pradesh, the Bharatiya Janata Party will strive to rid the state of its 'Bimaru' tag as development is the way forward in Indian politics now, party president Amit Shah said on Friday.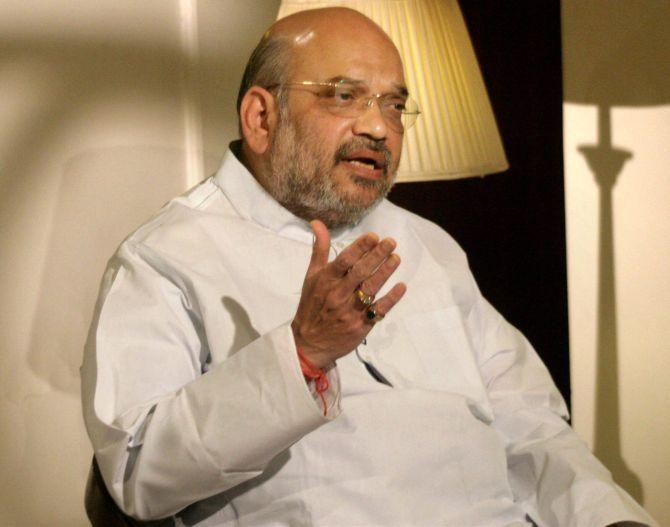 The upcoming BJP government will erase the UP's `Bimaru' (laggard) label and end the caste bias in bureaucracy in the country's largest state, he said in Mumbai.
A decision on the next chief minister of Uttar Pradesh will be taken on Saturday, Shah said.
Shah said that he will "never accept" the job of advising the Congress vice president Rahul Gandhi.
"I will never accept this job," Shah said, when asked what would he do if he were asked to advise Rahul Gandhi after the Congress' poor show in the recent elections.
Asked if he and Prime Minister Narendra Modi had no reason to worry as long as the Congress was led by Rahul Gandhi, Shah said, "We don't depend on our rivals' weakness."
To a question about his "earlier stint as a stock broker", Shah said, "I earned enough money then. ("Paisa toh maine theek thak kamaya tha").
On his relationship with Modi, Shah said, "My relationship with him is the same as it should be between a PM and (ruling) party president."
After its success in the just-concluded assembly polls of five states, the saffron outfit is gearing up for elections in Gujarat, Himachal Pradesh and Karnataka (likely to be held between 2017-end and 2018).
"We are preparing for polls in these states," he said during an interactive session at the India Today conclave.
"Right now, there are the BJP state governments in 58 per cent of the country's area. Along with our allies, we have governments in 65 per cent of the country's area, besides the government at the Centre," Shah said.
Asked if his party learnt lessons from debacle in the 2015 Bihar polls and made course correction in Uttar Pradesh, Shah said that he believes in looking forward and not in the past.
Asked if he expected the BJP to win over 300 seats in Uttar Pradesh, Shah stated, "I had said anything can happen after we cross 240-seat tally. That mark meant a wave in our favour but a wave is beyond any (electoral) calculation."
Asked why the party did not field a single Muslim candidate in the state, Shah said that the BJP doesn't believe in caste, gender-based politics.
"The BJP doesn't believe in caste, gender-based politics. The party only believes in development of all. In this country, only politics of performance will work."
People supported Prime Minister Narendra Modi's demonetisation drive and this was reflected in the outcome of the recent elections, he said, adding last year's surgical strikes on terror camps across-LoC have secured our borders.
On Bahujan Samaj Party president Mayawati's claim of EVM tampering in UP, Shah trashed the charge and said that the same machines were used when she was voted to power in the state.
On a similar charge by Delhi Chief Minister Arvind Kejriwal in context of the Punjab polls, Shah said, "If that was the case (EVM tampering), why did the Congress win in Punjab and not us?"
"The days of politics based on caste, dynastic rule and appeasement are over. Now there will be only politics of performance," Shah said at the conclave via video link.
The BJP leader supported the prime minister's suggestion that all elections -- from panchayat to the Lok Sabha level -- be held simultaneously. "The country must get out of this cycle of frequent elections."
"A lot of things are going on (development front) but the media does not take note of them, he said. "BJP ki safalta aapke gale nahi utarti (media can't digest the party's success)," he added.
On the BJP and its bickering ally Shiv Sena contesting the recent civic polls separately, Shah said, "It was a friendly match. It has ended. Our alliance has been there for a long time and will continue."
Asked when will the BJP implement its poll promise of farm loan waiver in UP, Shah said, "A decision will be taken at the first meeting of the Cabinet" after the new government takes charge in Lucknow.